Localizing a campaign
This reference article briefly goes over the information Braze collects from SDK integration and how it is used to classify locale and customize a user's experience.
Braze automatically collects relevant data to help you localize campaigns. Our customers send localized content on a daily basis to their audience to keep content relevant and accessible.
Technical details
Braze automatically collects locale information from user devices after the SDK has been integrated. The locale contains a language and region identifier.
For example, a user who has set their device to English (US) will have a language EN. The user's country is collected from their device IP address. These filters will be available in Braze's segmentation tool under Country and Language.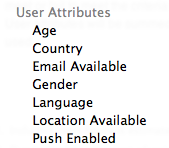 Check out the following resources for more technical details on how locale is retrieved based on your platform:
Internationalize campaigns
You can take advantage of this language identifier and our personalization capabilities to internationalize campaigns. For more information on internationalization, see Campaigns in multiple languages
Braze automatically collects the most recent location of users' devices (if location permission is granted to your app). You can use this information to run a localized campaign that is targeted at users within a specific geographic area. For more information, see Location targeting.