Bluedot
Bluedot is a location platform that provides an accurate and straightforward geofencing platform for apps. With the combination of Braze's leading mobile engagement platform and Bluedot Innovation's best in class location technology, mobile engagement is taken to the next level.
You can use Bluedot's SDK to message smarter, automate mobile order check-ins, optimize workflows, and create frictionless experiences. Combine the power of Braze with the precision and scalability of Bluedot's location services to accelerate growth to drive loyalty engagement and revenue in your app and beyond.
Events (entry/exit) generated by the user on their device are sent immediately to Braze along with all relevant information. This information can be used to build journeys, campaigns, and analyze customers' behavior and interests.
Integration
The integration of the Bluedot Point SDK and the Braze SDK is simple and straight forward. Just follow the below steps to integrate the SDKs in your app:
Step 1: Make sure you have a Bluedot account setup & then log into your Bluedot Canvas dashboard. You can learn about creating a new Project here
Step 2: Integrate the Bluedot Point SDK and the Braze SDK in your app using the steps provided in the Bluedot-Braze Integration documentation.
Step 3: You need to use the projectId created in step 1 to authenticate the Bluedot Point SDK.
Use Cases
The custom event information provided by Bluedot can be used in cases like QSR (Quick Service Restaurant), Click and Collect, and Drive-Thru to start a campaign targeting these customers.
Triggering Messages
You can set up a push campaign or Canvas that will action off of location events generated by the Bluedot SDK. This integration route is ideal for real-time messaging right as users enter a venue or location of interest, or delayed follow-on communication after they've left it.
Set up an action-based campaign within Braze that will send messages based on a set location. For your trigger, use a custom event of bluedot_entry or bluedot_exit as shown below: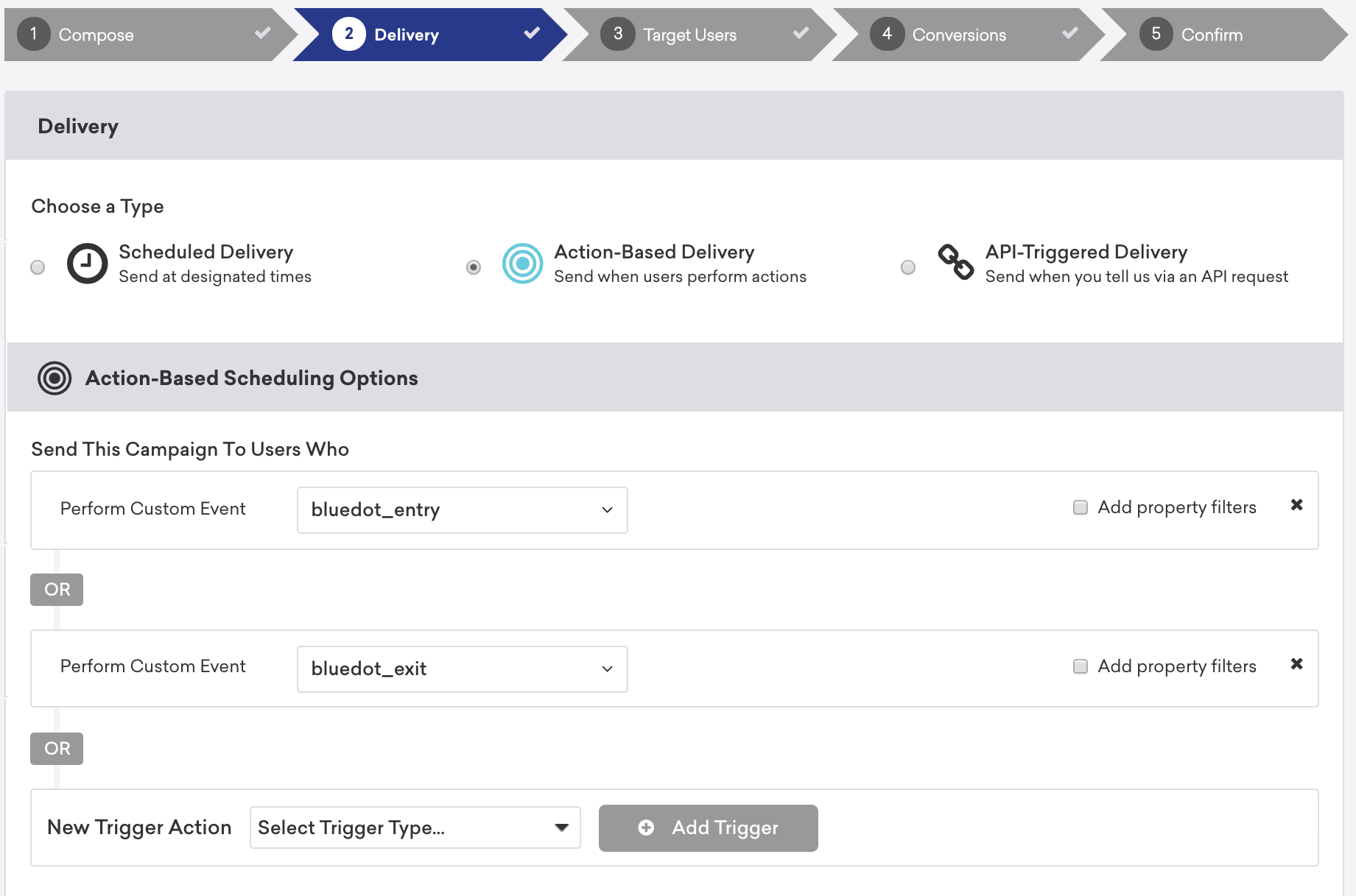 Target Users
Make sure to target All Users for your app group.