AI and Machine Learning
---
10 Leading AI Marketing Tools to Save Time and Money and Increase Revenue
By
Team Braze
Nov 8, 2023
If you spend any time in tech circles these days, you'll find that Artificial Intelligence (AI) is top of mind for practically everyone in marketing. From AI copywriting assistants to image generators capable of spinning up endless content variations in mere seconds, AI has significantly expanded the possibilities for applications that are capable of saving companies time and reducing costs. But determining which tools are capable of meeting today's challenges can be difficult, leading even the savviest of companies to be unsure of which solutions or strategies to invest in.
At Braze, we believe that creating winning customer experiences doesn't need to be a time-consuming hassle. We set out to help marketers work smarter—not harder—by developing intelligent customer engagement solutions nearly a decade ago. Starting in 2014, we launched the Braze Intelligence Suite to provide brands with a broader range of AI features capable of supporting more impactful customer engagement. Since then, we've expanded our AI offerings and launched Sage AI by Braze to help brands embrace the long-term benefits of AI.
From guiding you through the creative process to automating critical decisions and optimizations associated with the customer experience, Sage AI by Braze can help brands better deliver exceptional experiences for individual customers. For businesses looking to unlock the potential of AI, we've outlined below how to get the most out of our AI tools.
10 Sage AI by Braze Tools That May Save Time and Can Help Increase Revenue
1. AI Copywriting Assistant
Marketers know that their success depends on reaching customers with compelling content that resonates. As the list of channels consumers use to engage with brands grows, work has been piling up for marketing teams. Thankfully, new AI marketing solutions have been specifically developed to reduce the burden involved in developing creative materials. One go-to option overworked teams are turning to is the Braze AI Copywriting Assistant, powered by ChatGPT. This natural language generation tool delivers copy options for use across channels, including push notifications, SMS, emails, and both in-browser and in-app messages.

2. AI Image Generator
In today's fast-moving landscape, speed is just as important as scale. What else can slow down marketing campaign launches and experimentation? Developing creative for each variant of a campaign. Luckily, for teams feeling the pinch of resourcing or design budgets, Sage AI by Braze includes the AI Image Generator, which offers a state-of-the-art solution to this challenge. The feature is built on OpenAI's DALL·E 2 and can give marketers a competitive advantage by empowering them to quickly advance from ideation to action. Teams can more easily create eye-catching, customized artwork in seconds by inputting a brief description into the feature and then inserting the created images directly into messages.
3. AI Content QA
Ensuring your organization puts its best foot forward in regards to customer engagement is critical to maintaining the fidelity of your brand. Yet, we all know how time-consuming content QAing can be for resource-strapped teams. Tasks like checking for grammatical errors or inappropriate content can be made easy with the AI Content QA tool, meaning your team can focus on strategy instead.
4. AI Query Builder
For today's marketers, balancing the high-impact strategic work that drives greater results against basic—but essential—tasks like dashboard reporting and maintenance can be a delicate dance. Currently in beta, AI Query Builder is a new tool from Braze that was built with marketers of different skill levels in mind. This feature can help enable teams to more rapidly produce sophisticated custom reports using only natural language prompts and descriptions.
For technical marketers, creating custom reports can be time-consuming and require resources from already time-strapped developer teams. With the AI Query Builder, technical marketers can get a head start with a tool that creates detailed SQL queries for generating reports from natural language prompts and descriptions.
5. Personalized Variant
In order to create a winning engagement strategy, it's essential that each customer receives the message that best resonates with them. Unfortunately, one-size-fits-all optimization often becomes the main driver of the messages that customers receive. In many cases, a single message is sent to everyone on the sender list, regardless of whether other variations might resonate better with some individual recipients. Thankfully, there's a better way to push your personalization efforts forward. With the latest advancements in logistic regression, brands can send personalized messages to each individual. Braze Personalized Variant determines the winning message for each individual based on their unique behaviors, preferences, and attributes, making it possible to use AI to help increase engagement and conversions in each campaign.

6. Predictive Churn
Identifying which customers are at risk of churn and when it's time to intervene can be a headache for even the most experienced lifecycle teams. But thanks to AI marketing tools like Braze Predictive Churn, brands can get ahead of the problem. This solution identifies which customers are at risk of churning and flags the behaviors associated with churn so you can spring into action while you still have time. With this tool, you can use segments and filters within the Braze Audience Builder feature to create highly-targeted win-back campaigns to serve enticing promotions and incentives.

7. Predictive Events
Targeting consumers with discounts can be a waste of money if the discounts do not effectively drive the actions that matter to your brand. With the latest AI marketing technology, brands can reduce the guesswork when it comes to understanding who's more likely to perform specific high-value actions and which users need an encouraging nudge. Braze Predictive Events can interpret and predict a user's likelihood to perform a custom event, such as purchasing a product, renewing a subscription, or trying out a new feature. Using these insights, marketers can send relevant messaging prompts to encourage those users to perform a specific option. From tempting previously unlikely shoppers to make their first purchase with a personalized promo code, or nudging those most likely to purchase to increase their order size, this feature can provide nearly endless possibilities for more effective engagement.

8. Intelligent Timing
Sending customers messages that reach customers when they're open to engaging is a core customer engagement practice. Metrics like open and click-through rates often come down to delivering your campaign at the optimal time for each user. When your users are spread out across time zones or have different timing preferences, solutions like Braze Intelligent Timing can make all the difference. This feature automates the legwork by determining and delivering messages when each consumer is most likely to engage with your brand. So, if your customer is active in the mornings or prefers to engage at night, you can rest easy knowing your campaign will go out exactly when they are most likely to see it and take action.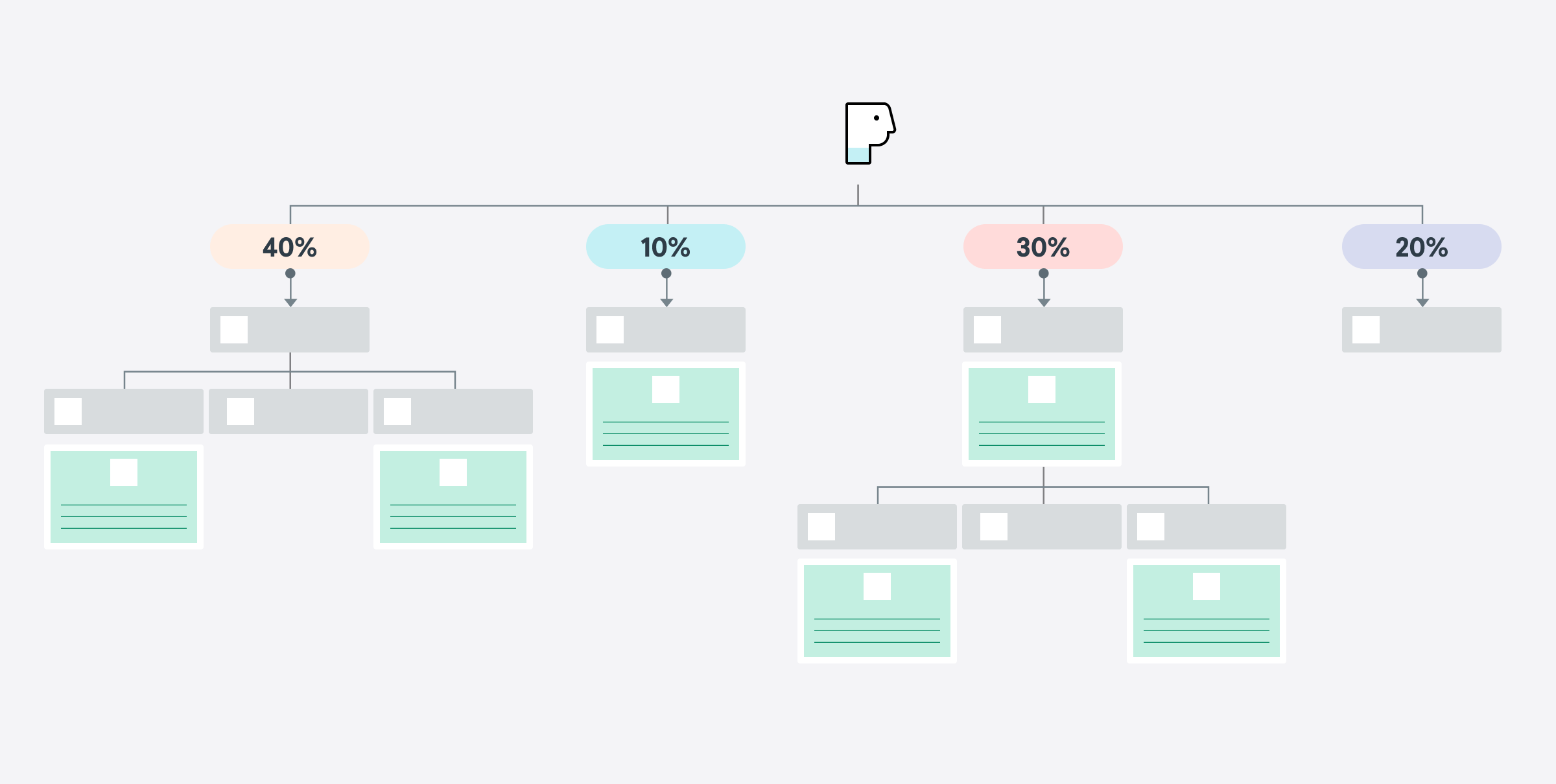 9. Intelligent Channel
Not long ago, cross-channel marketing involved arbitrarily deciding which channels to use to reach your customers, often leading to a less than optimal channel strategy for many brands. Sage AI by Braze can help automate your channel strategy in thoughtful ways using Intelligent Channel. This feature reduces wasted touchpoints while helping you meet your business goals. Instead of customers receiving duplicative messaging across their email, SMS, and push, marketers can leverage the channel with the optimal engagement track record for each user, increasing the odds that they're reaching each individual on the channel they prefer. Let's say one of your most valuable customers isn't opted in to push notifications and prefers to hear from you over email, while another responds best to in-browser notifications; you can now more seamlessly deploy the same campaign, and Intelligent Channel will auto-select the best channel for each of them.

10. Intelligent Selection
Once you've crafted your messaging using AI Copywriting Assistant, it's time to determine who to send it to. Braze Intelligent Selection can help you send the right message each time. This feature uses a reinforcement learning algorithm to determine which campaign each customer in a given segment receives based on campaign performance over time. This automates the shared campaign variant based on which one performs most effectively, allowing you to automatically send users the campaign variant that will give your team the best results.

Help Drive Business Results With Sage AI by Braze
With generative and predictive AI tools like Sage AI by Braze, marketers can work smarter and get better results–campaigns that may have taken months to execute can now be deployed in significantly less time. These features give teams the flexibility they need to test and iterate on copy, creative, timing, channels, campaigns, and even customer journeys more flexibly and more efficiently, while also supporting easier access to reporting and customer engagement insights.
From more intelligent personalization to real-time optimization, AI can help transform your customer engagement strategy and supercharge your ability to connect with customers at scale. Are you curious about how your business saves valuable time and resources using AI? Learn more about Sage AI by Braze today.

---
Team Braze