Product Spotlight
---
Why Braze Built An Intelligence Suite—And Where We're Taking It
By
Jena Donlin
Apr 23, 2018
What AI Can Do For Businesses
In research on AI published by the Harvard Business Review (HBR), Thomas H. Davenport and Rajeev Ronanki found that it's more useful to look at AI through the lens of business capabilities rather than technologies. From automating processes to predicting likely outcomes to holding realistic conversations with "robots," the right technologies have to be chosen for the outcomes you're looking to achieve. And because AI technologies are rapidly evolving, we've seen a lot of trial and error. For instance, Facebook found that their Messenger chatbots couldn't answer 70% of customer requests without human intervention. Their solution? Restrict the use of chatbots to certain domains and conversation types where they can make a difference.
However, the technology is only half the equation. Ultimately, good AI is based on good data. You've got to have good data hygiene and strong processes for managing information—otherwise, even the best and most cutting edge technology won't work. As Tim Peterson after the Digiday AI Marketing Summit reported "...Too often marketers are providing AI programs with not enough data or, more problematically, nonsense data."
Smarter Customer Engagement
The Braze Intelligence Suite is a set of features built to help you answer the what, when, and who of your marketing campaigns by targeting the right customers, selecting the strongest message, and delivering it all at the optimal time for each individual customer, at scale. It's smart, seamless, digital marketing automation.
Right Message | Intelligent Selection
Our Intelligent Selection feature leverages a machine learning algorithm to strategically adjust which campaign or customer journey path variant a given user receives, based on how each variant performs over time. By automating this kind of analysis across multiple factors—think creative, messaging channel, timing, and frequency—it's easier to ensure that every dollar is captured.
Okay, but let's dig a little deeper. Intelligent Selection uses a reinforcement learning algorithm to solve the "multi-armed bandit problem." This scenario simulates the experience of a gambler faced with multiple slot machines that all have different reward distributions and who needs a way to maximize their total overall winnings based upon the inferred probability distributions of each machine.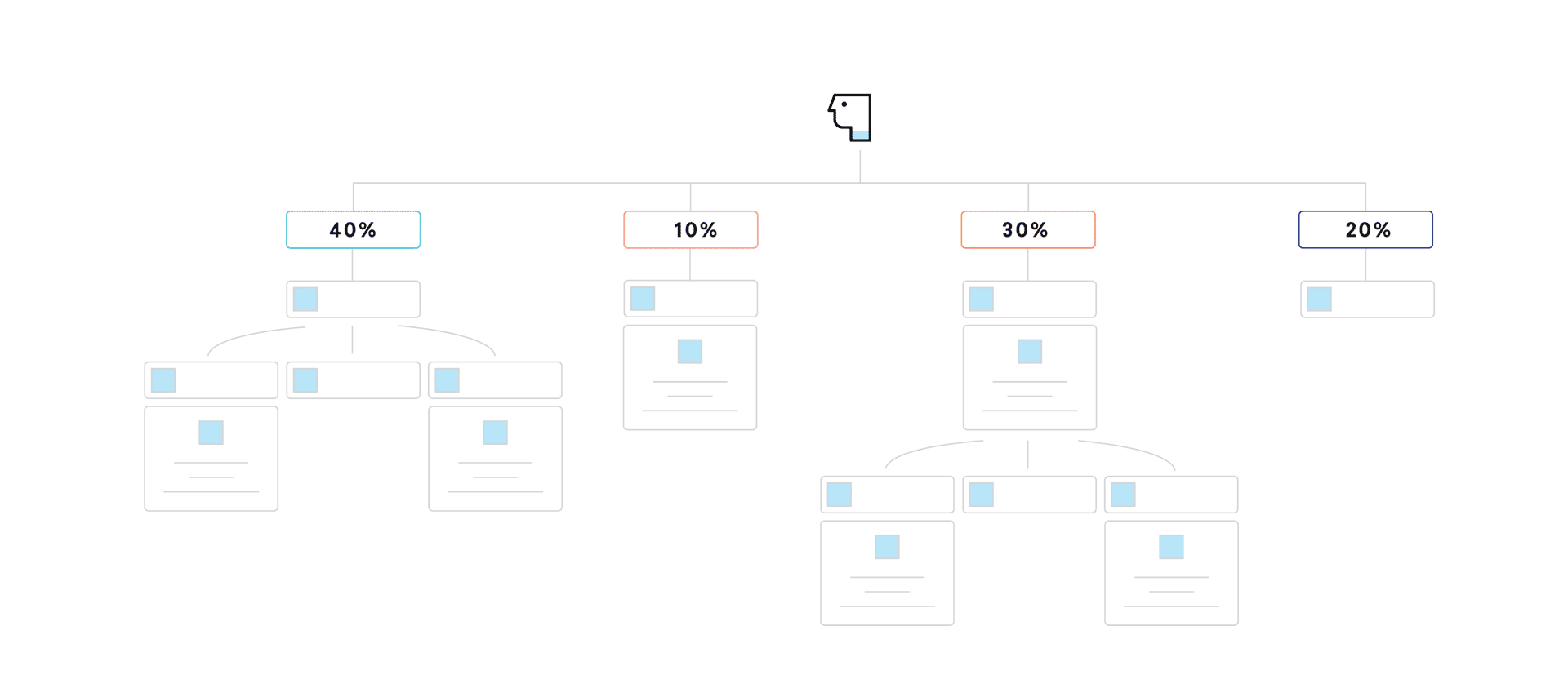 Intelligent Selection, part of the Braze Intelligence Suite
Our approach to solving this well-known problem? Inspired by Google-led research, we use a technique called Thompson sampling to determine the most favorable variations of a message creative or customer journey path, by simulating multiple potential "true" conversion rates, and seeing which of these scenarios best fits the observed data. Plus, the algorithm runs this process iteratively as more data is observed, so the accuracy of the process increases over time.
At the Right Time | Intelligent Timing
Our Intelligent Timing tool uses predictive algorithms to identify and deliver messages during the window of time when each a recipient is most likely to engage. By using send-time optimization with Intelligent Timing, Urban Outfitters was able to significantly boost the effectiveness of its multichannel re-engagement campaigns, resulting in a more than 100% improvement in open rates across all messaging channels. These campaigns also boosted one-week retention for male loyalty program members by 138% and increased engagement among users who had been inactive for at least three months by 94%.
Intelligent Timing, part of the Braze Intelligence Suite
To determine the optimal time to send a message, we analyze each user's past interactions with messages for each channel and pinpoint the time when the user has been most likely to engage, based on their engagement patterns. For instance, if you're sending a push, we'll look at each would-be recipient's past engagement with push or within relevant mobile and web applications. We then group this notification data to determine the largest cluster of engagement times for each user and to send the message within that window. If the optimal notification time occurs during a defined Quiet Time (for instance, at 3:00 a.m. in that users' local time zone), we'll send the notification right at the edge of the Quiet Time border. If the user doesn't have a history of message interactions that we can use, we will send messages at the most popular time to use the app.
For the Right People | Intelligent Targeting
Intelligent Targeting makes it possible for you to compare segments across key behaviors, like session frequency and lifetime revenue. Plus, it provides a smart behavioral analysis visual that arms you with insights you need to better target and reach your customers.
This visualization compares up to 5 segments against a baseline. That allows brands to assess key performance metrics across engagement (session frequency, time since first visit, time since last session) and monetary conversions (lifetime revenue, time since first purchase, time since last purchase), giving a better picture of how differing segments compare.
Where We're Going With The Intelligence Suite
As we evaluate additional ways AI can improve customer engagement, we're zeroing in on key orchestration and optimization points within customer journeys where this technology can help move the needle for brands. In particular, we're exploring ways that AI can aid human decision making by helping with key decision points like:
Targeting: How can we effectively identify lapsing users for each business unit? Can we surface users who are likely to buy in the next week?
Messaging Channel Delivery: Can we automate which channel you send a specific message on?
Time: Can you choose the best channel for a specific time? How can you adjust delivery and time around regional and regulatory requirements?
Pathing: Customer journeys can get complicated. How can we help automate path creation within Canvas, our customer journey tool?
Recommendations: Many of our customers have built or are building their own recommendation engines. We export high quality engagement data in real-time through Currents to help inform these recommendation engines. We also have a robust dynamic content offering with Connected Content. How can we make sure we continue to work in tight concert?
Raring to get going with AI? Get ready by checking out our look at what it takes to get started with a human-first approach to artificial intelligence.
---
Jena Donlin
Jena Donlin leads product marketing at Braze. She likes understanding how technologies work and the impact they have. Outside the office, you can find her running, cycling, and reading the latest #brazebooks book club selection.