FORGE 2022
---
It's All About Data at FORGE London 2022
By
Team Braze
Nov 8, 2022
Today's digital landscape represents both a major challenge and a major opportunity for brands when it comes to customer engagement. Consumers are looking for data-driven personalized experiences—and for brands to respect how and when they want their data collected and used. Consumers also expect relevant and seamless experiences from brands no matter what device, platform, or channel they're on. These challenges are exacerbated by clunky, siloed tools that run on outdated data, resulting in generic or disconnected messages that leave customers feeling frustrated. Thankfully, there's a better way.
At Braze, we believe technology should be a springboard for success, serving each brand's most ambitious and creative campaigns. We've continued to evolve our platform to allow brands to easily activate their data, deliver performances at scale, and unify their customer engagement practices. Check out what we recently covered at FORGE London 2022.
Start Anywhere, Go Everywhere With Canvas Flow
This past summer, we introduced Braze Canvas Flow. A next-generation journey orchestration tool, Canvas Flow allows marketers to design multi-step customer journeys even faster with no code required—in some cases, quickly building campaigns that would've otherwise required support from software engineering teams. Since then, we've been hard at work continuing to improve this product.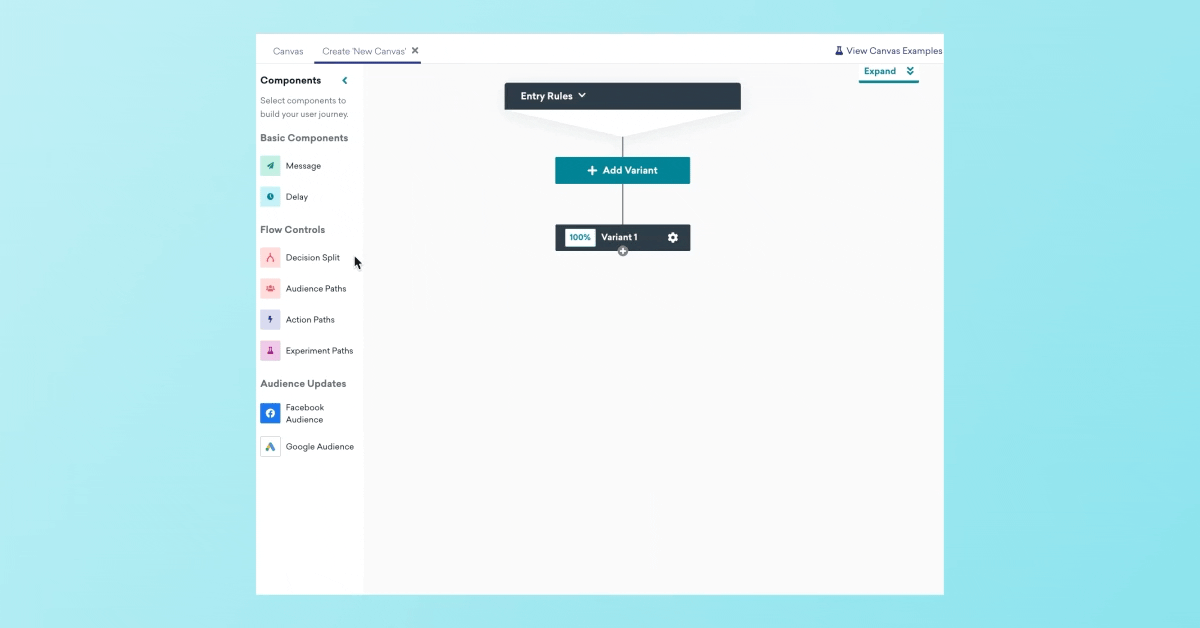 We're excited to introduce Versioning, which allows you to view what your Canvas looked like in the past, understand who made what edits—and, if you've since deleted a step, what the analytics were when it was running. This new tool can improve collaboration and administration in your teams by letting you track changes within Braze.

Additionally, next year, we're looking forward to launching Personalized Variant, a tool that uses machine learning to determine which campaign variant each individual customer is most likely to engage with, based on data from customers with similar usage profiles.
To learn more about Canvas Flow and campaign orchestration in Braze, check out our Modern Orchestration Guide.
Personalize Every Experience for Every Shopper
With our expanded Shopify integration, activate more Shopify data with just a few clicks. You can instantly connect your Shopify store into Braze, which allows for purchase and shopping cart information to be sent automatically into our platform. Plus, the easy-to-use wizards make it possible to integrate and run your first campaign within minutes.

Once Braze is integrated with your Shopify account, you can take advantage of the Braze platform's engagement tools, which include real-time segmentation, campaign and customer journey triggers, and transactional messaging.
Want to learn more about how to optimize the shopper journey? Check out our Braze x Shopify guide.
Use Catalogs to Power Your Personalization Marketing
Another tool released earlier this year, Catalogs makes it possible to harness your brand's own catalog of data related to the content, products, or services your company offers to personalize your customer experiences and campaigns. With Catalogs, marketers can sync and store their brand's catalog of non-user data directly within Braze for quick and easy use. For instance, eCommerce brands can integrate their catalog of SKUs or store information, while restaurants can integrate their list of current menu items. Specifically, with Catalog Selections, you can filter and sort these items based on each individual's user data, allowing you to create out-of-the-box product recommendations or other personalized content within Braze.
To further our personalization capabilities, we've launched the Catalogs API, which uses automation to create, update, and delete Catalogs and their items. You also now have the ability to add, edit, and delete items via CSV for quick updates, and add export capabilities so you can download your data directly. Together, these features will let your teams more easily keep your Catalogs up to date, and unlock additional use cases such as price drops or flash sales.
Give New Life to Data With Braze Cloud Data Ingestion
Cloud Data Ingestion allows you to connect your data warehouse directly to Braze, supporting the ongoing import and activation of customer data. Within a few clicks, sync data. Early access customers have reported that their engineering teams have saved dozens of hours a week by leveraging this new feature.

The Braze data model can support arrays and nested attributes so that brands can sync structured and unstructured data from any source without the headaches of building cumbersome data transformations. That means more data is in the hands of marketers to use immediately, allowing them to manage campaigns intuitively and leverage data in personalization tools across channels, platforms, and devices.
This feature is designed to be a data solution for the long term—while we're launching with Snowflake, we plan to expand the Cloud Data Ingestion integration to other partners, while also adding more updates to data types and platform usability in the future.
Quickly Experiment and Iterate With Automated Messaging Copy Generation
Our newly launched AI Copywriting Assistant allows you to automatically generate and test different message copy, reducing the effort required to come up with multiple subject lines or the wording for message variants all at the same time. Whether you're composing a snappy in-app message or drafting a straightforward transactional email, the newly embedded GPT-3 language model helps you experiment and find messages that resonate.
Better Connect With Your Customers With the TikTok Audience Sync
Braze Audience Sync is designed to help brands optimize their marketing spend by reducing customer acquisition costs and increasing customer lifetime value. By bringing together owned and paid channels, brands can quickly and easily deliver advertisements based on behavioral triggers, segmentation, and more within a customer journey—making every ad that more effective.
Any actions or criteria that would typically be used to trigger a message on an owned Braze channel (such as a push notification, SMS, or Webhook) can be used to trigger an ad to a user in Facebook or Google, among other capabilities. Now, we're pleased to announce that we've launched early access to the same capability for TikTok.
With TikTok Audience Sync, brands can dynamically and securely sync first-party user data from Braze directly into TikTok in order to serve ads. Brands have the option to control the specific data shared, and can easily and quickly send custom audiences to TikTok for use cases like ad retargeting, expanding the reach of their cross-channel campaigns to this platform.
Engage Global Audiences Through WhatsApp Channel Support
In early 2023, Braze will be launching native channel support for messaging platform WhatsApp. Fast, simple, and convenient messaging options have become increasingly important to customers as messaging becomes the preferred way of communicating with the brands they love. WhatsApp is one of the world's most popular messaging platforms with more than 2 billion users in 180 countries. Through the integration with Braze, marketers will be able to create, orchestrate, and send WhatsApp campaigns directly from the Braze dashboard to strengthen customer relationships with context-rich conversational messaging.
Personalize the Product Experience With Feature Flags
As marketers increasingly use Braze to orchestrate customer experiences across a wide range of different platforms, we've continued to look for new ways to support effective personalization within a company's app or website. That's why we're excited to release Feature Flags next year. With this product, you'll be able to easily launch and test new features before a broader rollout and without a code release. There's even a kill-switch for extra safety. Most importantly, Feature Flags are tightly integrated with Braze Canvas Flow, and the new Feature Flags Step within Canvas Flow will let you add or remove users to a Feature Flag audience. That means you have full control over who sees what content, allowing you to run follow-up messages that create a unified, 1:1 personal experience.
Customize In-App and In-Browser Messages With Our Drag and Drop Editor
With the right look and feel, in-app and in-browser messages can serve as rich in-product experiences, successfully engaging customers while matching the look and feel of your brand. Built specifically for in-app and in-browser messages, our new Drag and Drop editor will give you the ability to quickly create sophisticated experiences for your brand's unique use cases. The Drag and Drop editor is now in early access, and we'll be launching a collection of easy-to-use templates that will help you better understand and engage your audience (for instance, a phone number capture in-app message template or new survey template). These templates will provide inspiration and out-of-the-box support for many additional use cases that matter for your business.
Final Thoughts
Customers of all sizes and at every stage have transformed their business by embracing modern customer engagement. At Braze, we're committed to serving brands with the technology and support they need to advance their businesses. Stay tuned for the upcoming Fall and Winter Product Launches to learn about more of the ways that we're evolving and expanding our product to help you build better relationships with your customers.
Want to see what you missed at FORGE London 2022? Check it out now.

---
Team Braze