Guide
---
Braze and Shopify Work Together to Optimize Customer Experiences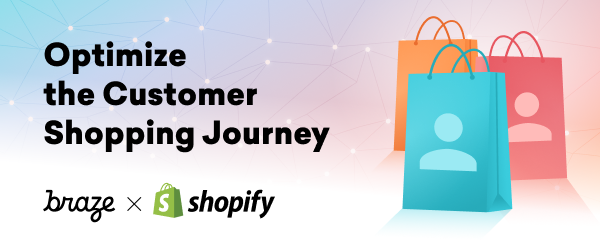 Explore how Braze and Shopify work together to transform data into personalized, real-time customer experiences in a scalable, sustainable way. Discover how more relevant, timely messaging helps drive revenue with a customer-centric approach that creates more memorable brand experiences.
In this guide, learn how Braze and Shopify can help you:
Deliver more personalized customer experiences based on real-time data.
Orchestrate timely communications across the full range of digital marketing channels.
Increase sales and retention by optimizing campaigns and customer journeys.
By integrating Braze with Shopify, you can supercharge customer experiences using real-time customer data, supporting better customer relationships and stronger marketing performance.
---
Optimize the Customer Shopping Journey Guide
Trusted
Today's top global brands are sending tens of billions of messages per month to over 3 billion monthly active users (MAU) with Braze.