Canvas Flow
---
How Braze Canvas Flow Helps Brands Meet Today's Customer Journey Needs
By
Team Braze
Aug 8, 2022
Today's consumers have come to expect relevant, responsive, and seamless experiences from the brands they patronize, no matter what device, platform, or channel they're engaging with. But while marketers are generally aligned on the importance of providing this kind of experience, many of them are trying to do so using clunky, siloed customer engagement tools that hamstring their ability to act on their innovative ideas and meet changing customer needs.
That gap between what consumers expect and what most brands are providing is a big one, and something that can weaken user retention and brand revenue if it isn't addressed. Thankfully, the Braze platform's Canvas Flow journey orchestration tool is built to bridge this divide and make it possible to successfully meet customers where they are today and into the future. With Canvas Flow, Braze makes it easy for marketing, growth, and engagement teams to:
#1: Unlock Creativity
Design, visualize, and launch any customer journey from a single drag-and-drop interface—whether that's a simple nudge or a dynamic cross-channel flow.

Create campaigns faster than ever before. Braze offers an intuitive drag-and-drop user interface that empowers marketers to create cross-channel messaging flows quickly with little to no reliance on technical teams.

Centralize your campaign management all in one place. Braze unifies journey building, message composition, testing, and analytics in one place so marketers don't have to switch between a variety of siloed platforms.

Expand your customer communications in lockstep with your brand's growth. Braze is designed to handle campaigns and customer engagement programs at any scale with reliable performance as businesses grow their products, business units, services, and customers.

Create live customer profiles across channels. Braze offers the flexibility to identify and engage with both known and anonymous users across all relevant channels, platforms, and devices.

Ace customer engagement across all major messaging channels. Braze enables marketers to take a true cross-channel approach by seamlessly blending out-of-product and in-product messaging channels, including email, SMS, in-app messaging, in-browser messaging, web and mobile push notifications, OTT media platform messages, paid social, and even direct mail.

Ensure smooth experiences with rate limiting and throttling. To ensure that they don't inadvertently overload internal servers, Braze allows brands to control the number of users who enter a given journey and are sent communications at a given time.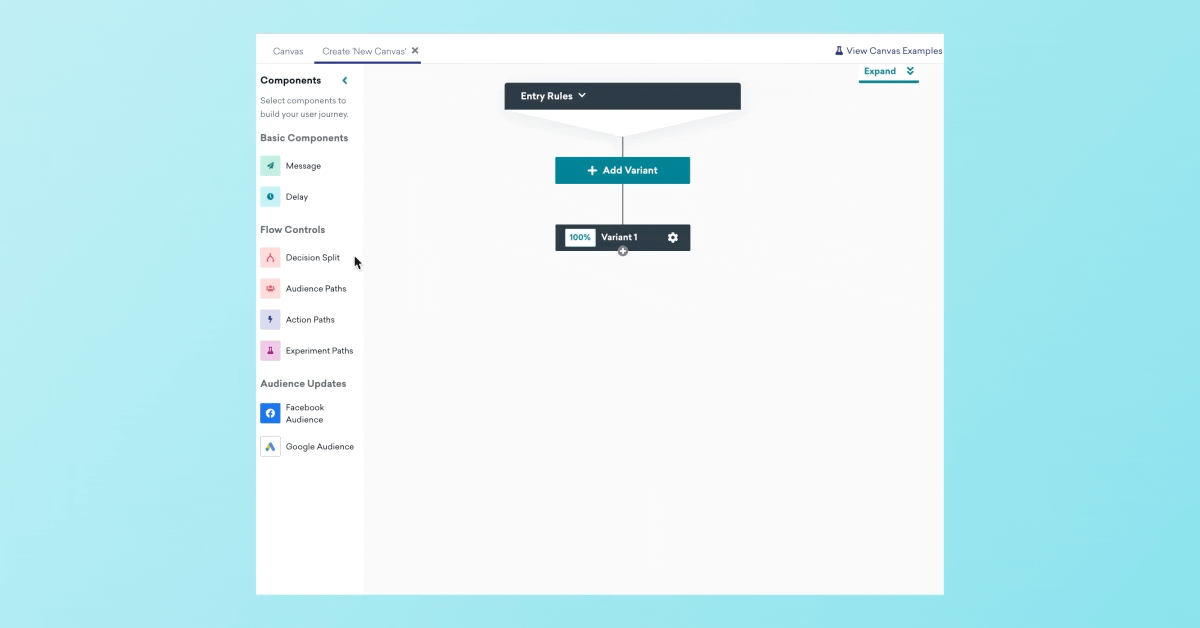 #2: Adapt to Your Customers
Tailor each customer's experience in real time based on their most up-to-date preferences, behaviors, and cross-channel interactions.

Take 1:1 relationship-building to the next level with personalized journey branching. Braze gives marketers the ability to send users down different journey paths based on their unique attributes and actions. This flexibility makes it possible for marketers to build out hyper-relevant experiences that personalize the entirety of a customer's journey.

Deliver real-time engagement that's actually real time. Unlike solutions built on batch processing data architectures, Braze lets marketers capture, update, and take action on customer preferences, behaviors, and predictive analytics in the moment, without latency.

Make sure your ads are delivered to the right users using Dynamic Audience Sync. Unlike other tools that offer a static list export to ad networks, Braze enables marketers to connect seamlessly with Google and Facebook ad programs. That makes it possible dynamically add or remove audiences from ad campaigns as part of a cohesive customer journey, and create lookalike audiences to more efficiently acquire new users who are particularly likely to become loyal customers.

Send just the right amount of messages with frequency capping controls. While some tools make it a little too easy to accidentally over-message customers, Braze gives marketers the ability to cap the number of messages a customer can receive across campaigns and customer journeys based on custom business rules.

Don't disturb your customers when they're sleeping (or working) with quiet hours controls. Strong customer relationships are built on respect for your users' needs and wants. That's why Braze gives brands the ability to prevent messages from being sent during specific windows of time—avoiding those awkward tweets about why, exactly, you decided to send a SMS to users at 4:00 am.

Track all of your important conversions. Many platforms limit conversion tracking at the journey level, making it hard to get a real picture of the impact that your marketing efforts are having across the customer journey. Braze, on the other hand, allows marketers to track multiple conversion events per journey based on session start, purchase, and custom event data, enriching their understanding of how their messages are driving customers to take action.

Don't waste any more time manually exiting customers from journeys. Too many customer engagement tools force marketers to spend time manually exiting customers from a journey once they've converted. But with the Braze platform's global exit criteria, marketers have the ability to automatically exit customers from a journey the instant they complete a specific conversion event.
#3: Optimize Your Performance
Continuously test, iterate, and optimize every part of the customer journey to discover what works, fine tune strategies, and improve results.

Optimize every customer messaging flow using the Braze platform's comprehensive journey testing. Where other platforms offer limited testing capabilities, Braze empowers marketers to test at the overall journey level, at any level within a journey, and at the individual message level. Understand the impact of key variables, including timing, engagement channels, the number of messages being used, subject lines, message copy, message creative, and more.

Prove ROI while saving time on manually building and maintaining control group segments with Braze Global Control Groups. Easily exclude a discrete selection of users from receiving messaging, making it possible for you to quickly and accurately assess the overall impact and ROI of your efforts.

Know the right channel to use at every step of the journey using Braze Intelligent Channel. Instead of manually testing which channel is the most effective, Braze can automatically determine the channel that has the best engagement track record for each user—removing marketer bias and guesswork from the equation.
Automatically boost journey results using Braze Intelligent Selection. Instead of manually testing which journey variant is most effective, Braze can automatically monitor the performance of a recurring journey and adjust the percentage of users that receive each message variant. That way, the top performer will be sent to more users, driving up the performance of your marketing program without requiring additional work or attention from your team.

Reach customers when they are most likely to engage with Braze Intelligent Timing. Using predictive technology and data on each customer's interactions, Intelligent timing identifies individual peaks of potential engagement across messaging channels. It then automatically deploys messages so they arrive at the time when each member of your audience is most likely to read and engage.
Final Thoughts
With Braze Canvas Flow, you can compose messages, orchestrate journeys, and run multivariate tests all in one platform. To learn more about how to create revenue-driving customer journeys that speak to every user as an individual, check out how EverWash drives a 37% conversion rate with Canvas Flow.

---
Team Braze