Product Release
---
July 2019 Product Update: Connecting, Comparing, and Testing
By
Kathryn Harmon
Jul 11, 2019
At Braze, we're focused on building the best customer engagement platform out there, supporting brilliant messaging experiences across devices, channels, and platforms. What does that mean for you? That we're constantly innovating and improving our product so that you never miss out on an opportunity to connect with your customers.
We've been busy at work to ensure that we deliver the best new features to our loyal customers. Check out some of our new features and updates:
In-App Messages in Canvas
In today's world, every screen is a window of opportunity, and if you're looking to keep the conversation going inside your app, there's no substitute for an in-app (or in-browser) message. And now you can add in-app messages directly into your cross-channel Canvases. Marketing isn't always about pushing users to convert, after all. Sometimes a gentle reminder at the right time and in the right context can be more effective than a push notification or email alone would be.
How might one use an in-app message in Canvas, you ask? Slide any of our four, out-of-the-box designs into the mix when you're announcing new features, launching a sale, looking for feedback from loyal customers, setting up an onboarding flow, or collecting email addresses on your website. The right mix of in-app, push, and email in a cross-channel journey can increase engagement by over 800%.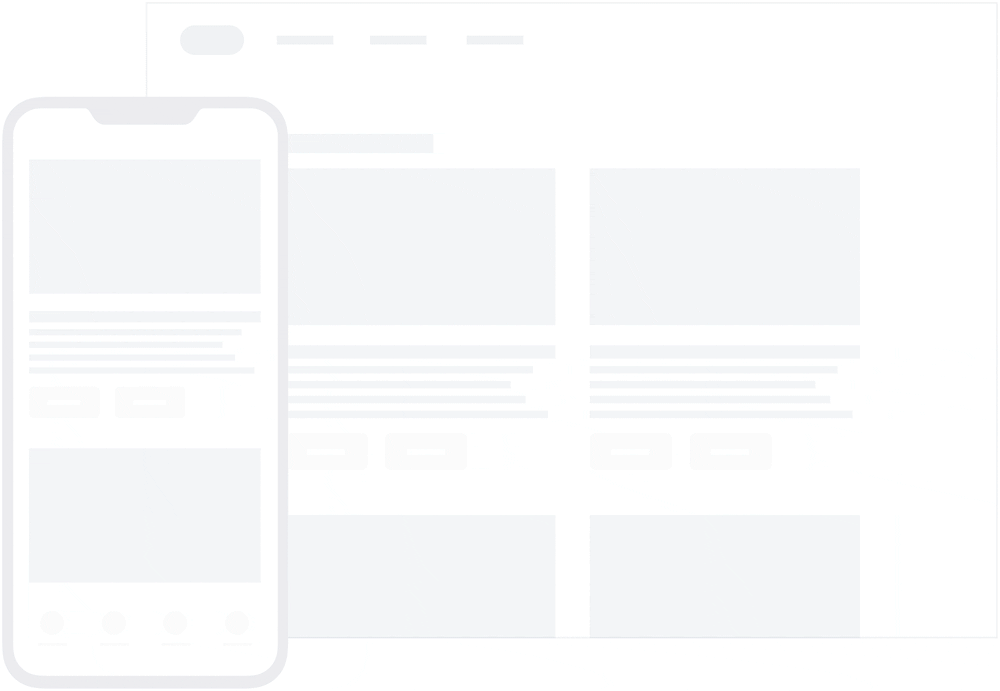 One of four in-app message design options now available for Canvas, shout your message from the rooftops with a customizable full-screen message.
Advancement Behavior in Canvas
A new Advancement Behavior option changes the way your audience moves through a Canvas, ensuring that the maximum number of eligible users graduate from step to step, regardless of whether they received the previous message or not. For example, if the first step in your Canvas is a push notification, but you know that only 60% of your users are opted-in to push, turning on the "Immediately Advance Audience" option will ensure that users who were eligible for the first step but not actually able to receive that push are eligible for the next message. "Immediately Advance Audience" doesn't negate any exception events or audience filters in the next step. It just ensures the largest possible number of users are moving through the next-step filters.
If you don't like the sound of that, you can use our "Advance When Message Sent" option, which would ensure that only users who were sent a message or viewed an in-app message are eligible to receive the next step in your journey. You'd use that option for sequential messaging that might not make sense if viewed out of order, for example.
Still have questions? Check out our documentation for more details!
Centralized user authentication: SAML SSO & Google Sign-In
Enterprise-grade security to protect your customer data and frictionless access to the Braze dashboard and tools go hand in hand as we roll out Single Sign On (SSO) with Security Assertion Markup Language (SAML) support in addition to our existing Google Sign-In using OpenID Connect capabilities.
SSO provides a secure and centralized user authentication, and simplifies user management by allowing access different applications, including Braze, with a single set of credentials. SAML SSO allows companies to seamlessly integrate with large identity providers, including Azure Active Directory and Okta, which support the latest industry standards.
Read our documentation to learn how to enable these tools at your organization.
Alloys Spotlights: Voucherify and Talon.One
Loyalty programs are on the rise in retail. Successful, up-and-coming brands like Third Love have built loyalty programs to "more consistently give customers access to rewards throughout the customer journey". In order to empower Braze users to build & maintain loyalty programs, we're excited to announce early access to two of the top loyalty and promotion platforms—Voucherify and Talon.One!
With Voucherify, Braze users can utilize Connected Content or Custom Attributes to automatically send 1:1 coupons, discounts, and more while tracking redemptions and campaign growth at every step. For more info on how to integrate, check out our documentation.
With Talon.One, Braze users can set up personalized promotions, including coupons, referrals, discounts, and loyalty campaigns. These personalized incentives are structured with flexible rules in order to help brands boost conversion and retention rates—take a look at our documentation to get started.
Connected Content in Content Cards
Back in May, we rolled out a new key messaging channel: Content Cards. Content Cards allow you to deliver rich content to customers without interrupting their web or app experience—and we're excited to share that Content Cards can now support Connected Content!
Connected Content allows you to insert any information accessible via API directly into messages you send to users. Braze users should note that, as with using Connected Content in emails, the dynamic content that is pulled in for Content Cards is determined at the time of send.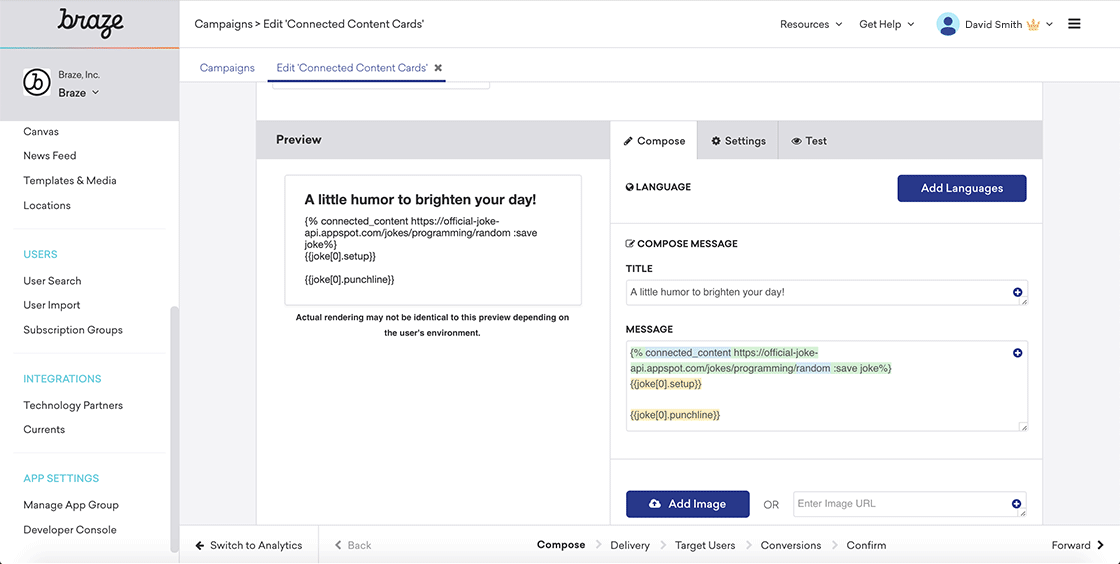 Leverage external APIs within Content Cards to further personalize messages.
Campaign Comparison Report
For marketers, understanding how your campaigns are moving the needle is critical. However, looking at a single campaign usually doesn't provide you with enough information to understand which marketing activities are working and which ones aren't. That's why we're rolling out the Campaign Comparisons Report. Now, you can gain insight into performance across up to 10 campaigns—all within a single view.
View and understand high-level campaign metrics in comparison to other campaigns
Template "dispatch_id" into messages with Liquid
You can now template the dispatch_id to track the dispatch of a message from within the message (i.e. in a URL). The dispatch_id is generated before the message is sent and is included at send time. For brands that send multiple API-triggered pushes to a single customer, the dispatch_id serves as a way to accurately track and differentiate between message sends.
A/B Testing for one-time-send campaigns
The latest addition to our Intelligence Suite brings automatic A/B testing to one-time-send Campaigns. Pit up to eight variants and one control against each other to verify hypotheses around differing content, imagery, subject lines and more—and send out the statistically significant winning option to the rest of the target Segment.
As easy as checking a box and choosing what "winning" means to your team, you can now test, win, and learn, automatically, with every campaign. From a simple test of emoji vs. no emoji to a battle of eight wildly different email designs, there's no end to what you can A/B and multivariate test. Plus, dive into the high-level results for each variant, from number of sends to performance against your goal, and which variant came out on top. That kind of testing can do a lot to support stronger engagement with the messages you send.
Anything else?
Keep checking back here to stay up to date on releases, updates, and announcements now, and throughout the rest of the year. In the meantime, subscribe to Braze Magazine for the latest on customer engagement trends, emerging tech, and marketing strategy and best practices.
---
Kathryn Harmon
Kathryn is the Product Marketing Manager, Analyst Relations at Braze. When she's not marketing our product here at Braze HQ, you can catch her grooving around Central Park, crushing a sudoku, or meticulously crafting the perfect piece of avo toast.