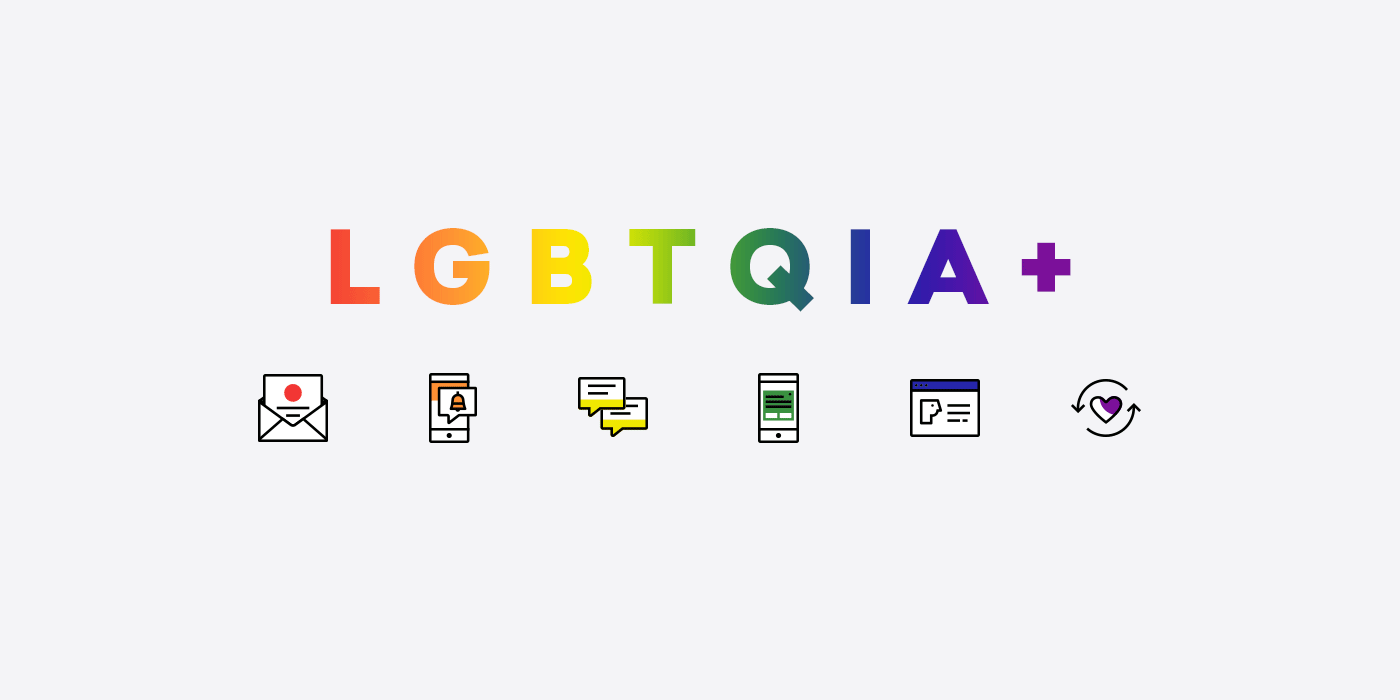 Personalization
---
Personalization and Preferences Matter—Especially for the LGBTQIA+ Community
By
Mary Kearl
Jun 19, 2019
Be inclusive and diverse. Avoid stereotypes and cliches. Use visuals that feature LGBTQ people. Gather input about your marketing and advertising campaigns from the LGBTQ community.
These are some of the best practices the Human Rights Campaign has shared for how businesses can be allies when conducting marketing and advertising outreach.
In an age where customer data is central to the brand experience, we would challenge that brands take inclusivity to the next level by using data collection and personalization to make customers feel welcome no matter their identity or orientation.
Why are these in particular worth calling out for brands looking to make a difference? Sometimes the simplest things—like how you ask people to identify themselves (via data collection) and how you reflect that information back to them in your marketing outreach (via personalization)—can have a huge impact. Doing it the right way, where customers have choice and flexibility (giving them the controls to their profiles and preferences), can help customers feel seen, heard, and acknowledged.
What does doing nothing or getting it wrong look like? Well, it may mean leaving customers with choices that don't fit. Or worse, making them select "other." And who wants to be called "other"?
Getting started: Inclusive data collection and customer profile options
First things first. Start looking at the types of data that you're collecting from customers and what personalization options you're giving them, especially regarding identity. Here are a few guiding questions for your teams:
What kinds of questions are you asking your customers?
What kinds of choices do customers have?
When people are setting up their profiles, for example, do they have the flexibility of selecting from a comprehensive list to describe themselves or provide custom responses?
How are you using this information to power your personalization-driven campaigns?
Are you sending campaigns that are specific to/segmented by gender? Do you need to be?
When creating profiles, are all of your fields mandatory? Are there any fields that are optional in the event someone is not willing to share?
People may identify one way today and a completely different way a year from now. How easy is it for customers to update their information?
Do the choices you offer customers match up with your actual messaging? (If not, what's the point of offering options you can't deliver upon?)
Some demographic information that may be particularly important to offer inclusive choices for include:
Gender: Facebook, for one, is reported to offer 50 different choices for gender in the U.S. and 71 in the U.K., where the social network worked with two groups, Press for Change and Gendered Intelligence, on selecting the choices.
Of the change, Professor Stephen Whittle, vice-president at Press for Change told The Telegraph, "By challenging the gender binary, Facebook will finally allow thousands of people to describe themselves as they are now and it will allow future generations of kids to become truly comfortable in their own skins."
Titles: HSBC and others have been recognized for offering customers a wide range of titles—including gender-neutral and nonbinary options, like Mx—to choose from beyond "Ms." and "Mr."
Pronouns: "Asking and correctly using someone's pronouns is one of the most basic ways to show your respect for their gender identity," explains the Lesbian, Gay, Bisexual, Transgender Resource Center at the University of Wisconsin, Milwaukee, which offers a list of pronouns people may use to describe themselves. Some gender-neutral and nonbinary options (those outside of the gendered she/he) include ze/zie and they.
These pronouns represent the options Braze currently gives its own employees to identify themselves in our employee portal.
Not sure what else you should be doing to be inclusive? Ask!
Here are some recommendations for gathering ideas for, asking for opinions about, and testing the impact of any changes your company makes as it pushes for inclusivity:
Solicit and analyze customer feedback via surveys or other formats on an ongoing basis—it makes business sense, as 50% of customers say they'll ditch companies that don't acknowledge their comments.
Add a feedback tab or section to your app, website, or email footer.
Introduce potential changes over email, push notification, or in-app messages and ask for customer input.
Build in a post-interaction push notification, in-app message, or email that asks customers to share their experiences and suggestions.
Test changes before implementing them across the board.
Why personalization and data collection matter
There are lots of compelling stats that tell the story of why personalization matters to businesses. Companies that do it successfully can see 10-30% increases in revenue and customer acquisition and engagement rates, according to research from McKinsey. And brands that don't? They're losing out on up to $1 trillion in annual revenue in the U.S. alone by not being relevant enough—offering customer experiences that are tailored to individual needs and priorities, according to research conducted by Accenture.
And there's a reason it has such an impact on the overall success of a business: Customers have strong feelings about personalization, with 74% feeling frustrated by irrelevant content and 83% expecting personalized experiences from brands they interact with.
The problem is, 55% of marketers say they lack the data they need to use personalization effectively, according to a study conducted by Evergage and Researchscape. That's why it boils down to asking for the information upfront.
...and as for being equality-minded?
If doing the right thing alone isn't enough, there is a financial bottom line as well. For starters, there's the $917 billion total buying power of the adult U.S. lesbian, gay, bisexual, transgender and queer population. Plus, data from a Google Consumer Survey shared by the Human Rights Campaign, reveals that 45% of consumers under 34 say they're more likely to become repeat customers of LGBT-friendly businesses. What's more, a majority of these consumers report that they'd opt for equality-focused brands over competitors.
Final thoughts
Just as how people choose to identify themselves continues to evolve, so too must data collection practices and, in turn, how that information is reflected on customer profiles. Brands that don't adapt, run the risk of leaving customers who are already marginalized with poor choices or none at all.

---
Mary Kearl
Mary Kearl is a writer and digital strategist, who has led email, social media, and content marketing for several brands. She has helped launch six mobile apps and one niche social network and is always up for a good Netflix/Hulu/Amazon Prime binge recommendation or travel tip