Work less, create more. That's the power of turnkey data integration.
Connect to Your Source of Truth and Integrate With Any Software
Easily and quickly activate the customer and product data your marketing team needs—no workarounds required.

Tap into turnkey integrations like Cloud Data Ingestion to sync, delete, and activate user attributes, events, purchases, and product data directly from your data warehouse in a few clicks.

Add custom data sources by collecting, transforming, and activating user data from any software application that accepts webhooks.

Build precise audiences and get valuable insights with fast and flexible no-code and SQL tools that enable you to increase personalization and double down on the strategies that work.
Check out how Virgin Red leverages the Braze and Snowflake integration to drive more engagement and acquisition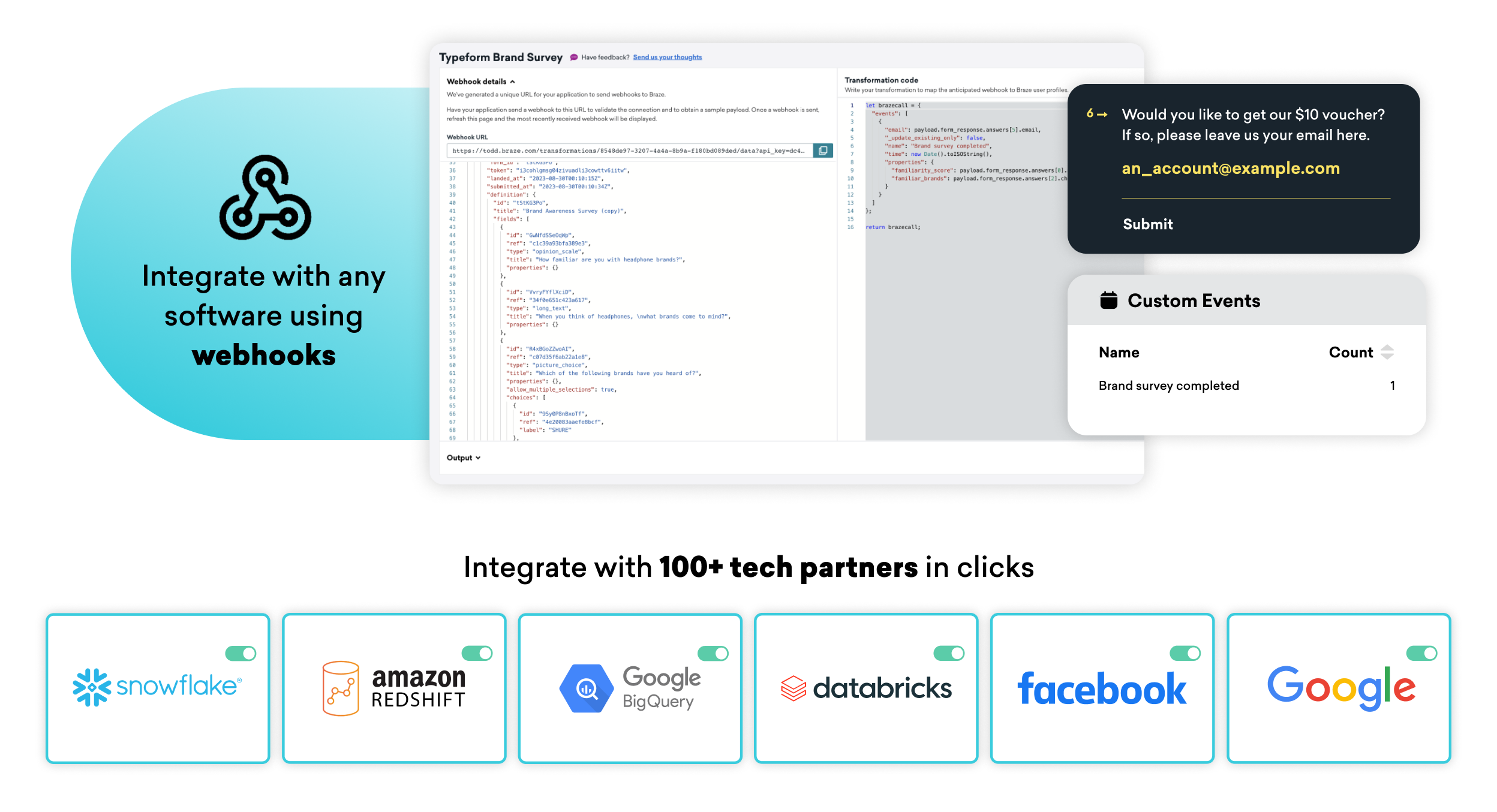 Stream Data at Scale Without Sacrificing Performance
Stream customer and event-level data to power customer experiences at scale, in real time—without sacrificing performance.
Braze supported more than 31 billion messages during the 2022 Black Friday and Cyber Monday period, maintaining 100% uptime and hitting peaks of up to 18.5 million sends per minute. In fiscal year 2023, we sent 2.2 Trillion messages.
Today, we are helping brands connect with over 5.1 billion monthly active users.

Focus on Building What Matters
Integrate data quickly to equip your marketing team with immediately accurate and actionable data so you can focus on what matters most—innovating on your core product and solutions.
Let your marketing team bring creative ideas to life fast with a solution that is simple enough to manage independently and flexible enough to handle any customer engagement use case.
Check out how MoneySuperMarket turbocharged their messaging in just 8 weeks with Braze.

"Because we now rely on a cloud-based, 360-degree view of our customer, we've become much better at collecting actionable insights that improve future campaigns and help us increase customer lifetime value."
---
Steven Mayotte
CIO at Payomatic
"Braze allows us to scale up near-instantaneously to successfully process even our largest campaigns."
---
Rick Faulkner
Senior Software Engineer, Quizlet
Unlock Everything Data Can Do
The challenge facing technical teams is how to support data integration successfully and decrease the technical resources required to effectively engage with customers. Download this guide to learn more about the three key issues that are keeping a brand from reaching their goals, and how technical teams can work together to find effective, scalable solutions.

The Total Economic Impact Of Braze
From eliminating 150k in point solution costs to 1,200 hours saved on solution integration and maintenance to <3 months payback—discover how the power of Braze could pay off for your company in this study. Download this study to explore the tangible benefits and cost savings that brands across the world have experienced as a result of adopting Braze.
1700+ brands use Braze to power human connections with customers through technology and data, including companies like: