Building Braze
---
Tales from Hack Day: Braze Senior Product Designer Yuna Akazawa on Widgets, APIs, and the Two Kinds of Hack Day Projects
By
Yuna Akazawa
Jul 15, 2021
Three times a year, technologists from around Braze take two days away from their normal duties to participate in Braze hack days. These events—a long-running Braze practice that reflects how the company creates space for dreaming up and implementing new ideas—provide a chance to encourage innovative thinking, highlight pet interests, and even optimize the Braze platform in ways big and small. To recognize the work that goes into each hack day, Building Braze will be profiling participants with particularly memorable projects or experiences. This week, we're talking to Yuna Akazawa, Senior Product Designer at Braze.
My name is Yuna and my focus most days is on designing products in connection with the Braze platform's email and SMS channels. However, I'm also a regular participant in the company hack days and have learned a few things over the years that inform how I approach them.
The Two Kinds of Hack Day Projects
From what I've observed there are two main kinds of hack day projects. Some are realistic in nature, addressing an immediate need or problem, and are usually presented in an almost ready-to-ship state. And there's another type of project, one that is larger in scope and more experimental in nature—some might call them conversation starters.
I definitely lean more toward the latter: It's like working on a dream project or something that would be so exciting to have built, an opportunity to float things conceptually and maybe start a conversation that you can get more excited about. Taking this approach also lets you isolate the project from the actual day-to-day work and explore things that you're interested in learning about, which can make it particularly appealing.
Where Hack Day Ideas Come From
When I'm trying to brainstorm a hack day project, I start by daydreaming and then work backward. I think about where our company could go and the different directions we might take, then consider milestones for what a given end state might look like. I also think about how other companies our size grew over five or 10 years.
During one recent hack day, Braze had a particular focus on our eCommerce customer use cases, and I thought: "Okay, that's perfect; I can see creating something for eCommerce use cases. But is there anything I can build quickly in a short time, something that isn't too farfetched?" Building a full conversational marketing product would be a lot to take on, so I came up with a smaller option as a potential step to explore new areas of opportunity.
Yuna's Hack Day Project: A Personalized Website Widget, Powered by Braze
In essence, I wanted to create a small widget that could live on a customer's website; it's like a flyer for the digital age, where the message and content associated with the widget would be personalized for each customer who visits the website. And because the widget is pulling data from Braze, we can build on recent campaigns that site visitors had received, and add in a personalized message in the widget.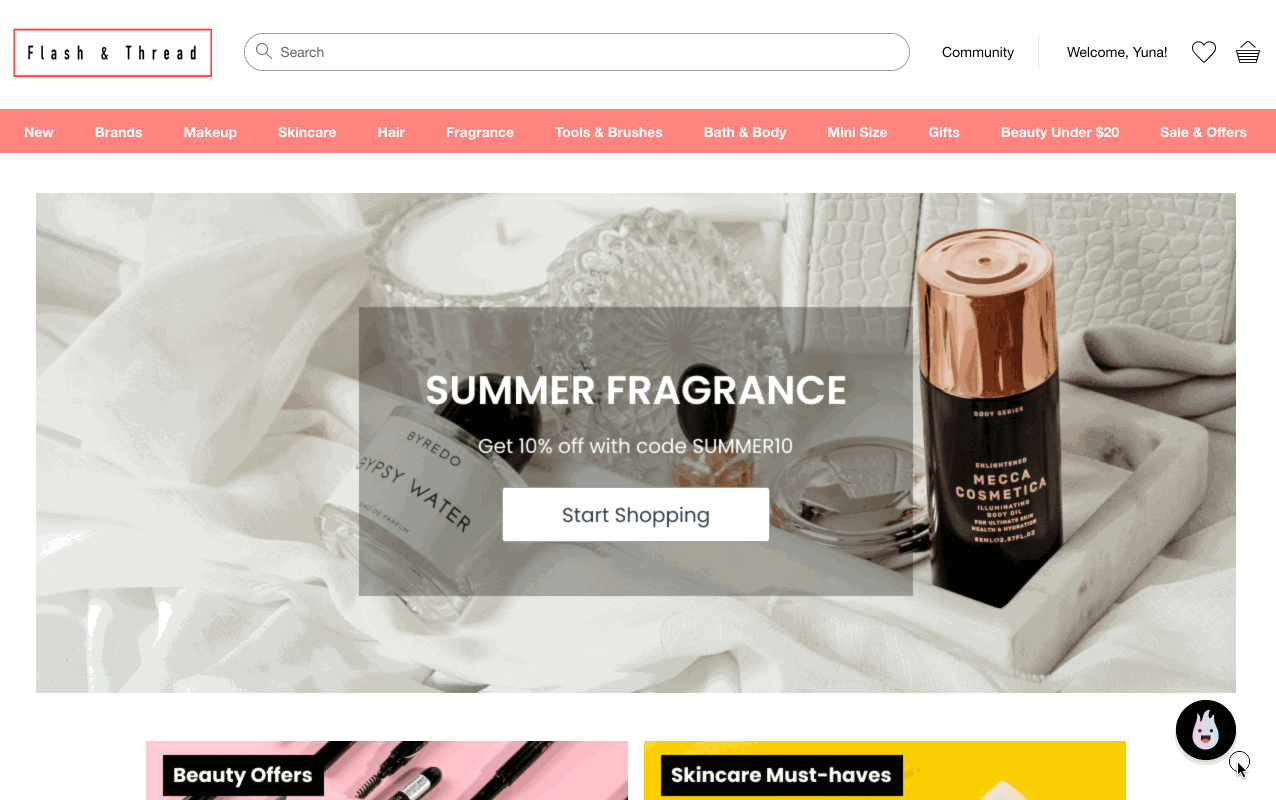 Yuna's hack day widget in action.
For example, if a visitor has a birthday, the widget would be able to automatically surface a special promo code or a "Happy Birthday" message, as appropriate. Plus, because the widget is interactive, if a visitor clicks on an element of it, they'll be taken to a page connected to the content they've interacted with—perhaps a product page or a targeted recommendation based on that customer's past browsing or purchase behavior. When I was creating it, I was imagining it being particularly useful for eCommerce brands, but it could also work for other industries.
While I've been on teams for some hack days in the past, this project is one I really did all by myself—I drove the product decisions, the design, and the engineering aspects as well. I really wanted to challenge myself with the technical part of building out a product, using React, a programming framework that I've been teaching myself. I didn't have time to learn the Braze code base, so I had to make sure the idea allowed me to build this in isolation and see if I could get it to leverage Braze data. That meant learning about different Braze API endpoints and what it took to export data from Braze, and then streaming it back into the platform.

A behind-the-scenes look at how Yuna's widget works
I think that hack day is meant to give you the freedom to take a couple of days to work on something, even if it's out of your normal scope. It doesn't have to look great or be built perfectly. If the project excites you, just do it. It's normal for projects to be a little hacky—not all of my backend stuff worked perfectly, and that's fine. As long as you can demonstrate that the vision is achievable, consider your goal accomplished.
Interested in getting involved in our hack days? Braze is hiring for a variety of roles across our Engineering, Product Management, and Product Design teams. Check out our careers page to learn more about our open roles and our culture.
---
Yuna Akazawa