Guide
---
Mobile Messaging Inspiration Guide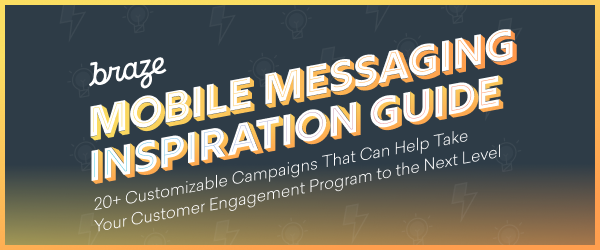 Customers expect relevant brand experiences wherever and whenever they engage. To meet this expectation, brands need to embrace cross-channel mobile messaging campaigns that provide impactful, cohesive customer experiences.
Learn how to make your messages even more effective with the Braze Mobile Messaging Inspiration Guide. This collection of powerful, personalized, mobile-focused customer engagement use cases powered by Braze provides a window into the sorts of successful digital campaigns leveraged by today's savviest brands.

Get inspired by:
20+ customizable campaigns to effectively activate, monetize, and retain customers

Expert tips to boost the effectiveness of your campaigns

Insights into what you need to know about key mobile messaging channels
Leveraging messaging to successfully activate your audience is an essential part of building an impactful customer engagement strategy—and the first step is understanding the activation-focused campaigns that are at your disposal.
---
Mobile Messaging Inspiration Guide
Trusted
Today's top global brands are sending tens of billions of messages per month to over 3 billion monthly active users (MAU) with Braze.