Customer Engagement
---
How to Respond to the Macroeconomic Climate: Our Takeaways From Mobile World Congress 2023
By
Team Braze
Mar 9, 2023
This year's MWC (Mobile World Congress) saw the convergence of tech companies and wireless carriers in Barcelona to showcase the latest advancements in connecting people and businesses online.
Despite predictions of a shrinking European economy and tightening consumer spending, there are some green shoots of hope, particularly in the retail sector. Attendees at this year's MWC Barcelona heard leading experts share optimism about the future of connectivity and technology's growing role in creating authentic customer experiences. Digital innovations in everything from 6G acceleration to mobile network accessibility anticipate providing savvy marketers with more channels to engage consumers cost-effectively.
Our takeaways from MWC
Develop your tech stack to adapt to evolving retail environments
As expected, digitalization was a key takeaway from MWC Barcelona, particularly as we continue our evolution to Industry 4.0 and beyond. Whilst bolstering tech ecosystems remains critical in a rapidly evolving retail landscape, scrutinized budgets mean businesses need to make wiser technology investments that generate improved ROI. With Braze Alloys, marketers can leverage a curated ecosystem of powerful integrations and find bespoke solutions specific to their business needs.
Create more thoughtful, data-led customer relationships

Retailers have a treasure trove of data at their disposal presenting rich opportunities to target consumers based on purchasing habits. We heard at MWC Barcelona that 5G devices were enabling huge waves of data collection, but with such an overwhelming volume of data, how can marketers derive valuable insights? With Braze, you can harness real-time data to reach every customer on a personal level. By leveraging this data to generate consumer insights, marketers can, for example, develop more empathetic messaging that speaks to customer needs that are more likely to resonate at a time that customers are spending less.
There's a fine balance between customer retention and acquisition in challenging times
Against a backdrop of mounting acquisition costs, it's crucial to protect the predictable revenue generated from existing customers. The key is developing strategies to retain and acquire customers with a cross-channel approach that provides value from the point of onboarding and encompasses the entire customer lifecycle. Leverage your customer engagement platform to hold onto the customers you've already won whilst delivering inspired campaigns to capture new customers.
With powerful 5G/6G connectivity, smartphones are getting even smarter
Through greater software development, digital innovation, and enhanced 5G delivery, smart devices represent a key ingredient in the cross-channel marketing mix. A strategy that cleverly unlocks additional channels, such as WhatsApp messaging, SMS, or app push notifications, is more likely to result in a purchase. As MWC Barcelona suggests a continued shift toward becoming a mobile-first society, Braze enables savvy marketers to drive increased revenue with mobile marketing campaigns that capture customers wherever, and whenever they choose to purchase.
Amidst the hustle and bustle of the tradeshow, Braze hosted an exclusive event, called "Grow with Braze," where industry experts shared insights and made valuable connections. Grow with Braze is our international event series, where attendees get the inside scoop on how to accelerate business growth through the power of cross-channel customer engagement, presented by some of the best professionals in the industry.
The day kicked off with an introduction by CTO and Co-Founder of Braze, Jon Hyman. He welcomed a diverse range of speakers to the stage to address the challenges and opportunities facing modern marketers. Sergi Martínez, Senior Android Developer at online classifieds specialists Adevinta, spoke about the importance of reshaping customer relationships using actionable data. He emphasized the role of data in driving personalization, which, in turn, fosters loyalty and retention.
The next speaker, Carlos San Isidro, Head of Marketing for payment technology app, Verse, held a fireside chat with Magith Noohukhan, Head Evangelist at Braze. They discussed how to promote customer loyalty and retention with actionable strategies throughout the customer lifecycle. Carlos shared his insights into the customer journey, highlighting the importance of building a strong relationship with customers from the first touchpoint.
Braze announced native support for WhatsApp messaging this year, and Jon Hyman joined a panel discussion with Kyle Jenke, Senior Director, Partnerships, Business Messaging at Meta. They discussed the evolution of business messaging and the best ways for brands to enter this emerging marketing arena. Jon emphasized the need for marketers to test where they can, and inspire high-value actions across the customer lifecycle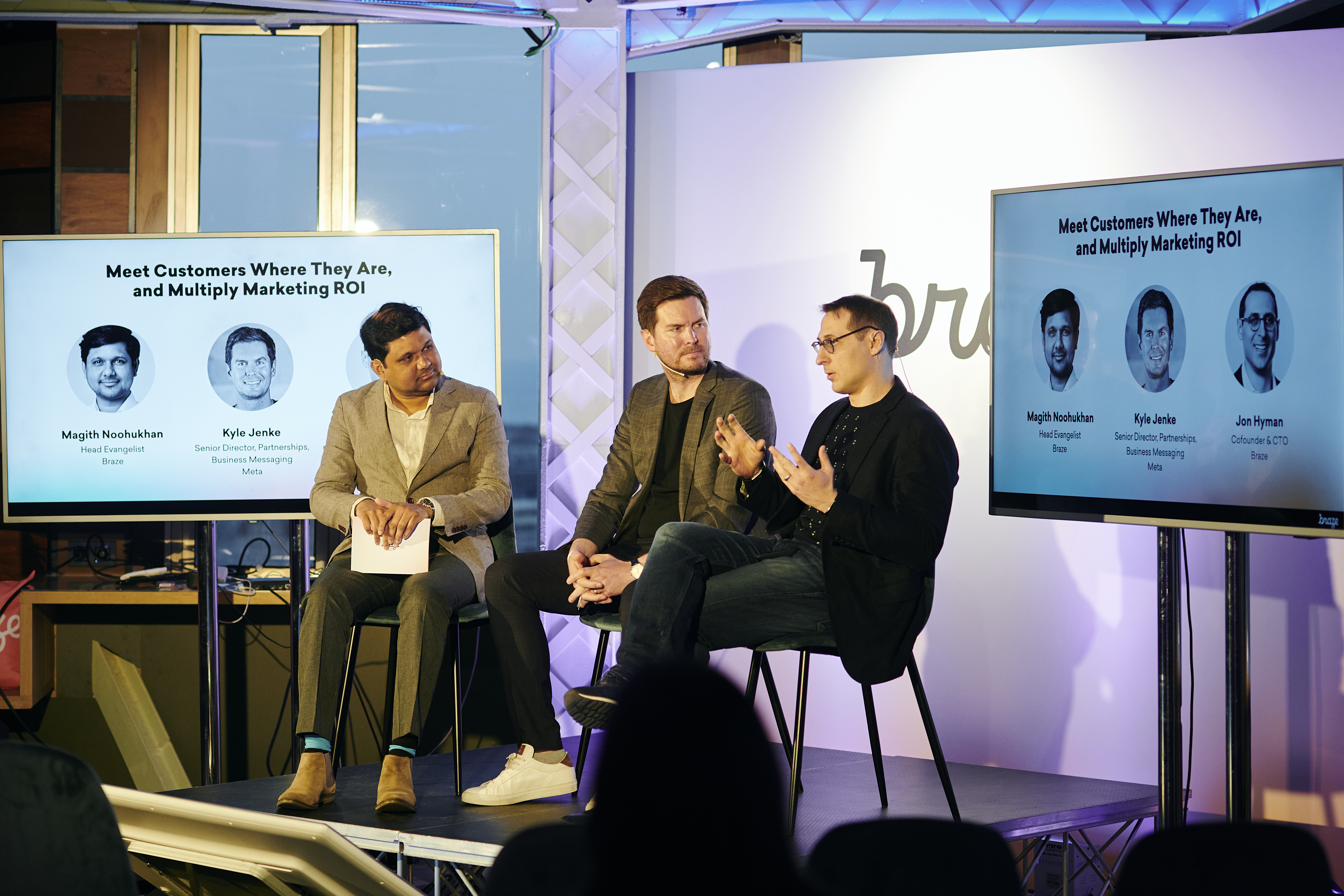 Ido Bar Oz, Senior Director, Strategic Tech & Cloud Alliances at Braze, and Lisa Hopkins, Global Leader, Advertising and MarTech Partners at AWS, examined how bolstering your tech ecosystem can be the key to delivering sustainable ROI. They shared insights into how a robust tech ecosystem can help businesses streamline their marketing and customer engagement efforts.
The final speaker of the day was Nathalie Nahai, best-selling author and expert in consumer behavior, persuasive tech & ethics. She delivered a keynote on tapping into the psychology of the consumer to meet consumer needs. She emphasized the importance of building trust with customers and understanding their needs and wants.
Overall, the Grow with Braze event was a valuable learning experience for marketers looking to build stronger customer relationships and drive business growth. The event provided insights into emerging marketing arenas while emphasizing the need to personalize customer engagement and build trust. Braze is at the forefront of customer engagement and is committed to helping businesses navigate the ever-changing marketing landscape

---
Team Braze