Babylon Pioneers AMP for Email to Achieve a 20% Increase in Engagement
With a mission to make healthcare more accessible, Babylon connects patients with doctors and other healthcare professionals, allowing them to receive virtual services. The health tech company utilized AMP for Email to showcase a health check feature, effectively providing more value to their users.
Even though email dates back to the Nixon administration, it's still home to many of today's most innovative new features. Take AMP (Accelerated Mobile Pages) for Email: Developed by Google, AMP for Email allows brands to send rich, dynamic content that lets users interact right within their desktop or mobile inbox. It may well be the biggest thing to happen to email since its creation.
Always at the forefront of technology, Babylon decided to use these new capabilities to drive stronger engagement in their app. The health tech company, which enables remote consultations with doctors via its app, saw an opportunity to better showcase its health insights with the interactivity of AMP for Email. By leveraging Braze and ActionRocket, Babylon deployed an engaging, one-of-a-kind campaign that drove users to complete their free Healthcheck.
Just What the Doctor Ordered
Babylon's Healthcheck feature is very advanced: It asks questions about users' lifestyle and then generates a report with ideas on how to better their health. Part of the report is the "digital twin," a 3D recreation of each user's body that spins to highlight areas for improvement, as well as areas that are currently doing well. It's a personalized, engaging feature that helps users visualize and understand their own health.
Just like many brands, Babylon knows email plays an important part in driving users to their app. So when they wanted to highlight their Healthcheck section, they recognized the new interactive email features supported by AMP for Email were a perfect fit for the campaign.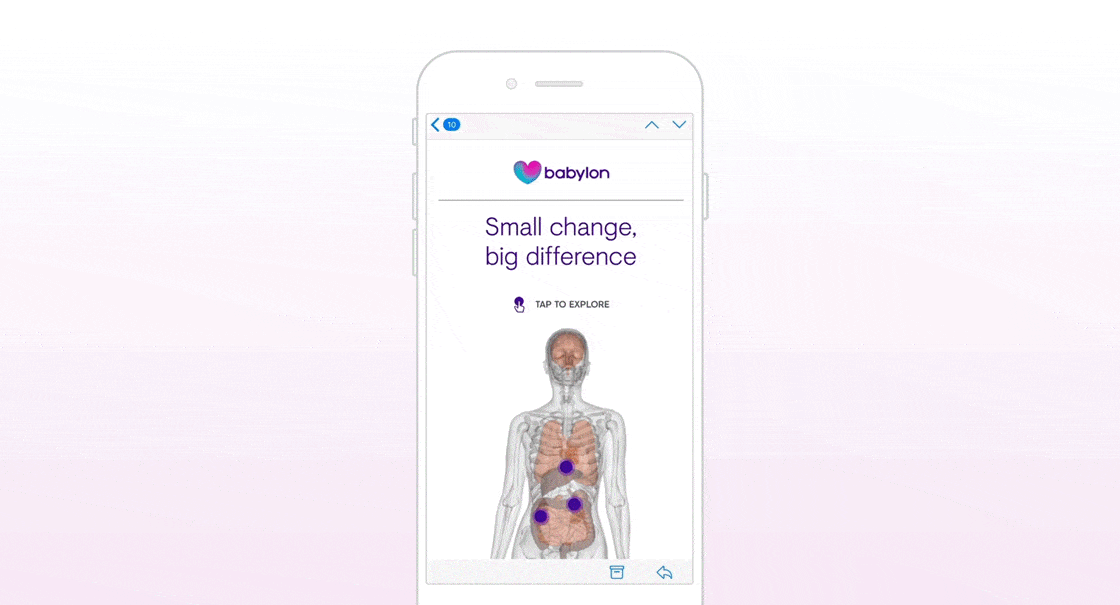 Using AMP for Email, they brought their interactive Healthcheck experience straight to the inbox, with clear calls to action that drove users to find out more with the in-app quiz. There were three versions of the email, based on which email provider a client used. Users either received an email that was coded with CSS or AMP for Email, or a non-interactive version.

To execute the campaign, Babylon leveraged Braze Alloy solutions partner ActionRocket to develop the best possible interactive experience across all email scenarios. Together, they used the latest code tactics to build two files: One in HTML code using CSS to enable interactive experience for iOS devices and one file using the latest AMP code from Google. While the email was in production, they made sure they were registered with Google to send AMP emails—an important step to remember before you send your first one. Additionally, Babylon approached this campaign like an IP warm up to ensure it would reach the inbox. Starting with their most engaged users first, they sent the email in four batches.
"This was a rewarding project to collaborate on with Babylon," said Lexi Clarke, Director at ActionRocket. "It was inspired by Braze and Action Rocket's joint Email Learning Workshops and a great development to see the full circle from idea to send. The positive results prove that interactive email is engaging as well as actionable when you think about the user first. It also gave our team the chance to try out AMP code in a real scenario and we are keen for other clients to make the leap—ensuring they have a platform like Braze that supports sending AMP emails."
Babylon's Results: High Click-Through Rates
The creative and careful approach paid off—the interactive AMP and CSS emails combined got 56% more click-throughs than the non-interactive emails. They also drove a 20% increase in people completing Healthcheck for the duration of the campaign.
"The design process was interesting as thinking interaction-first forces you to think much more visually than normal because you are trying to make the interactive elements front and center," said Catherine Allen, Associate Director of CRM at Babylon Heath. "Over time I can see this type of design becoming a specialism in its own right. We're certainly going to be experimenting more with interactive emails over the next year."
Final Note
With a forward-thinking approach and the right partners, Babylon sent a relevant, attention-grabbing email that was a new and exciting approach to customer engagement for most recipients. By focusing on customer interaction first, the health tech company achieved high engagement rates and paved the way for future campaigns, while also showing the way to other brands. To learn more about how tech supports brilliant experiences, check out the Braze guide to the modern tech marketing stack.