Product Release
---
Winter 2023 Product Release: Faster Content Creation, New Partnerships and Integrations, and Streamlined Collaboration Across Your Team
By
Jojo Zieff
Feb 21, 2023
The start of a new year is the perfect time for marketers to weigh their past efforts and create winning engagement strategies for the months ahead. And as we turn the page on 2022 and usher in 2023 with open arms, there are new challenges on the horizon that make it more important than ever to assess, streamline, and optimize your customer engagement strategy. Your customers have grown to expect personalized, differentiated experiences from your brand; the challenge is ensuring efficiency in making those experiences possible.
Thankfully, the Braze 2023 Winter Release is designed to equip you with the tools you need to create powerful and resonant experiences for your audiences. This product release is designed to make that possible by helping you seamlessly create engaging campaigns, enhance flexibility for your data and analytics, and foster structured collaboration across teams. Taking the time now to thoughtfully incorporate these capabilities into your existing customer engagement strategy can allow you to save time and be more efficient going forward, while still driving stronger results.

Create Engaging Content, Faster
In today's uncertain business landscape, marketers are increasingly tasked with creating compelling, effective campaigns quickly and with fewer resources. In our Fall 2022 release, we worked to alleviate this problem by adding features that empower easier campaign creation and boost the performance of those campaigns. To build on that foundation, our Winter release is doubling down on those gains by enhancing ease of use, expanding channel offerings, and providing an extra AI assist designed to help uplevel your content. These tools can help save your time, increase efficiency, and create a more dynamic content experience for your users.

Quickly generate brand-new images with the AI Image Generator. Say goodbye to expensive stock photos and hello to custom AI-generated images. As part of our Summer 2022 Product Release, we introduced OpenAI's GPT-3 in our AI Copywriting Assistant to help you generate compelling marketing copy quickly. This Winter, we have expanded on these capabilities by introducing OpenAI's DALL·E 2 technology to create art based on natural language descriptions and then save your favorites to the Braze Media Library. Easily add these images to messages to grab the attention of your customers in creative, cost-effective ways.
Reach viewers on tvOS with added support for in-app messages and Content Cards. With the new Braze Swift SDK, brands with tvOS apps gain two more channels they can leverage to engage Apple TV viewers. Tap into Braze live customer profile data to share relevant content recommendations, drive viewership of new releases, prompt users to update the app, and more using these flexible messaging channel options.
Elevate your SMS campaign engagement and user trust with custom domains. This new, highly requested feature makes it possible for brands to use their own SMS custom domains in connection with the Braze platform's link-shortening service. Custom domains can also increase SMS engagement and avoid the perception that messages may be spam.
Expand Real-Time Data and Monitoring with New Partnerships and Integrations
When tasked with limited time and resources, marketers must choose a tech stack that empowers efficiency and saves time without sacrificing the ability to curate unique and personalized customer experiences. With the following new partnerships and integrations that seamlessly expand customer data access and support monitoring of your Campaigns and Canvases, we make it easier to deliver personalized customer experiences while managing campaign performance, all in real time.
Expand your real-time customer data access with the Cloud Data Ingestion sync to Amazon Redshift. Building on our existing Cloud Data Ingestion capabilities with Snowflake, you can now seamlessly sync data from your Amazon Redshift data warehouse with a pre-built integration that connects in a few clicks, not code. Brands can now quickly and easily ingest attribute, event, and purchase data from Amazon Redshift, then use it within the Braze platform to trigger real-time campaigns and personalize journeys. Additionally, support for all major cloud data warehouses is on its way this year.
Monitor Braze campaign and Canvas send events with our new Datadog Integration. Datadog is a leading observability service for cloud-scale applications, supporting the monitoring of servers, databases, tools, and services through a SaaS-based data analytics platform. The new Braze and Datadog integration allows customers to collect Braze data in Datadog to support more holistic monitoring and alerting for irregularities in your message sends (e.g. you could set up a monitor that will alert you if your weekly newsletter campaign sends an abnormally low volume of messages). This helps teams understand potential problems in real time in order to quickly course correct when needed.
Streamline Collaboration Across Your Team
With engagement increasingly central to both customers' experiences and brands' bottom lines, Marketing teams are required to work collaboratively with other team members and departments to provide seamless, valuable experiences. With multiple people collaborating on these consumer journeys, it is imperative to find ways to ensure campaign quality and reduce the risk that campaigns are launched prematurely or without proper approval.
To help brands meet this need, Braze has designed new features that encourage structured collaboration by giving teams the ability to manage permissions and safeguard campaign quality before messaging flows are launched.
Leverage Canvas Approvals to ensure campaigns launch only when all required stakeholders approve. Collaboration between different teammates and departments is paramount in unlocking the potential of your campaigns. With that collaboration comes the need to ensure that campaigns aren't launched before they've been QAed, approved, and finalized. Canvas Approvals safeguard against that risk by ensuring that a given Canvas is launched only after it receives the correct levels of organizational approval, even if different employees or teams are working on different aspects of a given Canvas at the same time.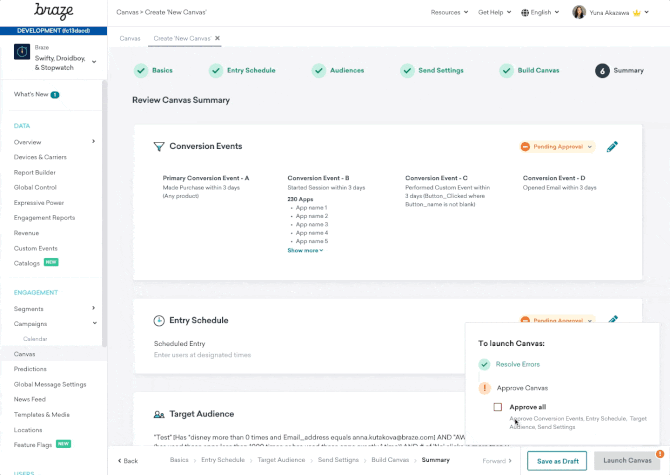 Final Thoughts
Today's consumer expects personalized and meaningful experiences from the brands they patronize. With many Marketing teams facing limits on their time and bandwidth, it's important for them to find ways to leverage technology to save time and support the creation of the kinds of experiences that consumers crave. Our Winter Release tackles these needs head on by evolving the Braze platform to speed up the creation of best-in-class campaigns, enable action based on flexible data and analytics, and support collaboration across teams more efficiently.
To learn more about the updates included in the Winter Product Release, register for the Braze Winter Product Webinar on February 22. Join our team as we discuss how these new and updated features can help you better reach and engage your customers.
---
Jojo Zieff
Jojo Zieff is a Product Marketing Manager, newly based out of San Francisco. When he's not preaching about Canvas Flow, you can find him running through Golden Gate Park or supporting his beloved Boston sports teams.