November 2019
More to come! Check back later this month for more updates!
Intelligence Suite
Braze's Intelligence Suite helps you automate decision-making with data-based insights. From delivery time to multivariate testing, brands can use these tools and features to create dynamic, cross-channel experiences that optimize at scale.

The Intelligence Suite comprises of three main features: Intelligent Timing, Intelligent Channel, and Intelligent Selection.
note:
The "Intelligence Suite" is a revision and grouping of features previously known as "Most Engaged Channel", "Intelligent Timing", and "multivariate and A/B testing".
Dark Mode themes for in-app messages
iOS 13 and Android 10 both introduced settings that allowed mobile phones to change their color themes to a "Dark Mode". Aligning with this feature, Braze has introduced Dark Mode for in-app messages! This feature allows you to create in-app messages with a "light" and a "dark theme". If a device you send to has "Dark Mode" activated, the message will display your selected Dark Mode Theme.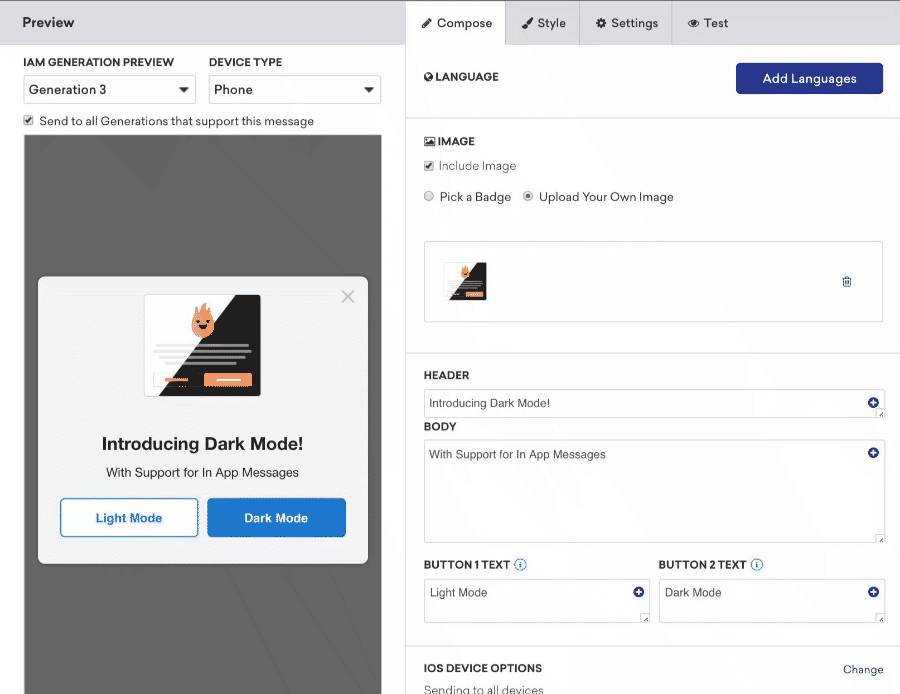 SMS metrics in Engagement Reports
SMS Metrics are now available in Engagement Reports!
Delete a Braze user's teams
You can now delete a team from a Braze user's account!