Double opt-in process
You might find that some users who might send a text to your short or long code, won't yet be opted-in to your SMS subscription group. Regulations require that you obtain a user's explicit consent before you send them any promotional or informational messaging. We highly recommend implementing a double opt-in to ensure compliance.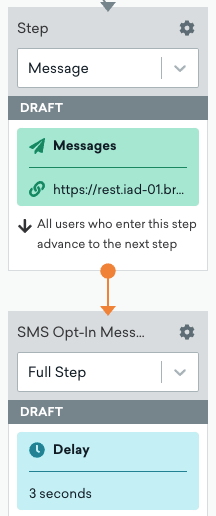 We suggest setting a triggered entry in Canvas whenever there's an incoming event sms_response_subscriptionGroupName_custom. Refer to Custom keyword messaging handling for more information.
Step 1: Create a webhook
We first suggest creating a webhook campaign that makes a request to the /subscription/status/set endpoint to subscribe the user to that SMS subscription group.
Step 2: Send an SMS campaign
Next, we recommend sending an SMS campaign a few seconds later, with clear call-to-actions along the lines of: