In-App Messages
When to Use In-App Messages
In-app messages are good for a lot of things. They can be used in web apps, Android apps, iOS apps, and more!
In-app messages don't deliver outside of the user's app and won't intrude on their home screen like push notifications do. In-app messages, by their nature, exist within your app and come with context and are almost never unwelcome! They're always delivered when the user is active within your app.
Great Use Cases
New App Features
App Management
Reviews
App Upgrades/Updates
Giveaways & Sweepstakes
Sales and Promotions
Product Sales
Encouraging and rewarding discovery
To see examples of in-app messages, check out our Case Studies.
In-App Message Types
Braze currently offers the following default in-app message types: Slideup, Modal, Full and HTML Full. Each in-app message type is highly customizable across content, images, icons, click actions, analytics, display, and delivery.
All in-app messages are subclasses of the ABKInAppMessage, which defines basic behavior and traits for all in-app messages. The in-app message class structures as following: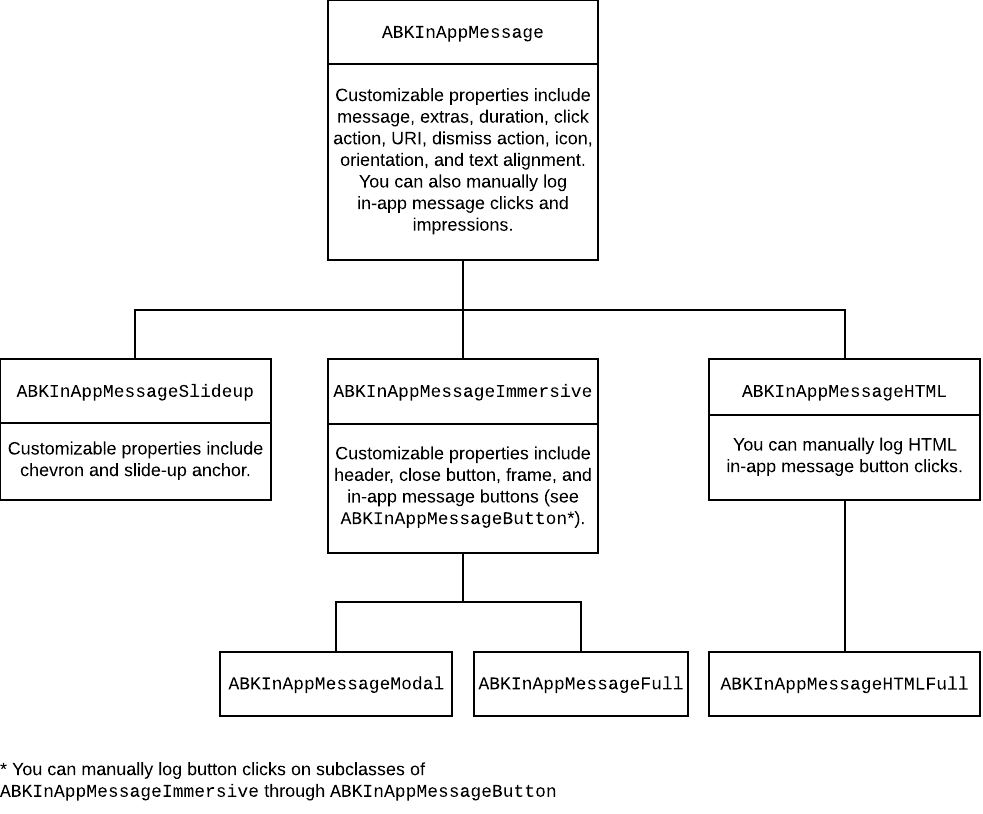 important:
By default, in-app messages are enabled after completing the standard SDK integration, including GIF support.

Note that integration of SDWebImage is required if you plan on using our Braze UI for displaying images within iOS In-App Messages, News Feed, or Content Cards.
Expected Behaviors by Message Types
These are what it looks like for your users to open one of our out-of-the-box in-app message types.